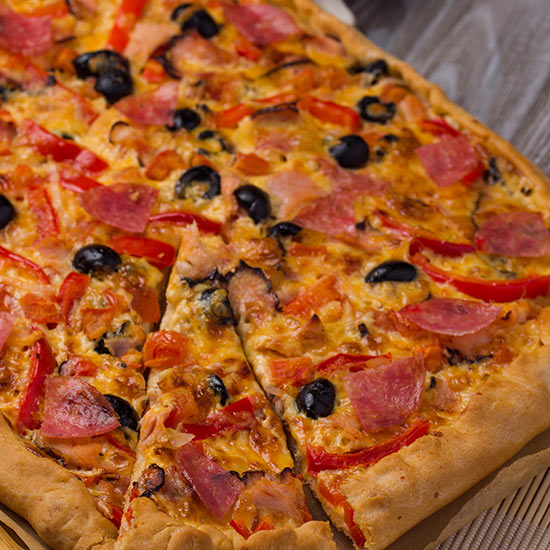 Forget about picking up a pre-frozen pizza and try putting this fresh, homemade pizza together in the truck with the help of a toaster oven. Swop out our suggested toppings for whatever toppings you love! This recipe makes two pizzas, so there will be plenty of leftovers for lunch the next day.
INGREDIENTS
1 can (13.8 oz.) refrigerator pizza crust, cut in half
2 tablespoons oil, divided
2/3 cup Slow Cooker Marinara Sauce, divided
2 cups shredded mozzarella cheese, divided
18 slices pepperoni, divided
1 small green pepper, sliced into rings, divided
2 large mushrooms, sliced, divided
DIRECTIONS
Heat oven to 425°F.
Spray baking pan with nonstick cooking spray.
Press half of the dough into pan and brush with 1 tablespoon oil.
Bake 8 to 9 minutes or until light brown.
Top baked crust with 1/3 cup sauce, 1 cup shredded mozzarella cheese and half of the pepperoni, green pepper and mushrooms, or whatever toppings you choose.
Bake an additional 11 to 13 minutes or until cheese is melted and crust is brown. Repeat to make the second pizza.