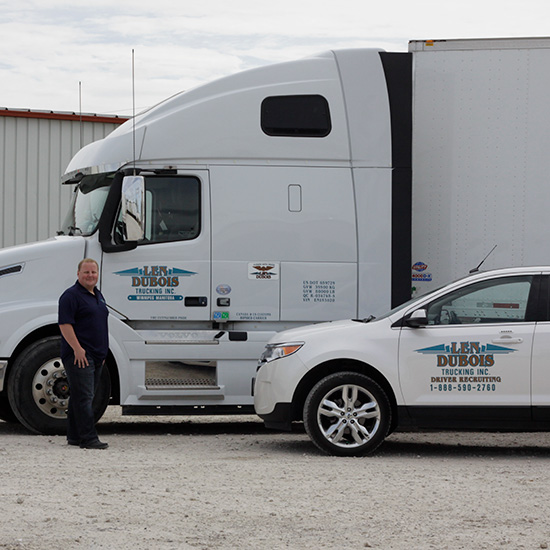 Len Dubois Trucking of Winnipeg, Manitoba is expanding its driving fleet and is on the lookout for professional company drivers to join the team.
With our new 90% single load policy, driving with Len Dubois Trucking has never been better. Our owner operators and company drivers have been earning higher than the industry average for years, but with a new policy on freight, and less multi-load runs, our drivers will be earning even more and working smarter, not harder.
Our experienced team in operations and dispatch have spent over 30 years building relationships with many regular, satisfied clients. This has led to regular outbound and inbound freight to keep our fleet moving an average of 11,000 miles per month while still being able to enjoy regular home-time with friends and family.
What We Offer Our Fleet
Up to $0.45 per mile starting base mileage rate, the more experienced the more we pay!
$0.03 per mile for drivers who run 10,500 plus miles per month.
$0.01 addition paid for all U.S. miles run.
$10.00 per Border crossings paid.
$200.00 per statutory holidays paid over & above your wage.
$75.00 per month paid for your cell phone expense.
Truck idling incentives.
$25.00 per hour paid for waiting and detention pay with the approval of the operations department.
$100.00 layover pay for single drivers; $140.00 for teams.
Health, Dental, and Disability insurance, excellent coverage subsidized by the company.
Assigned trucks. No slip seating.
Newer Volvo, and Freightliners
AND MORE!
Who We Are Looking For
We are always on the lookout for professional drivers who want to become part of the team for the long haul. If you are a company driver who is committed to safety and compliance, quality customer service, and strong work ethics we may be a good fit for each other. Successful candidates will have:
Minimum 2 years over the road U.S. experience
U.S. entry is a must
Clean drivers abstract and criminal record search
FAST approved
Professional attitude and appearance
Work Smarter, Not Harder. Apply Today.