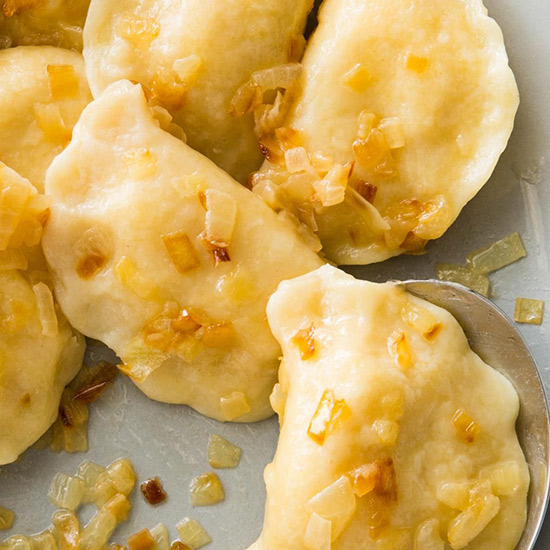 Have you ever wanted to try your hand at making homemade perogies, but were too intimated to try? Well, don't hold yourself back any longer! This homemade perogy recipe is easy and not to mention delicious! Cook the recipe at home, freeze them, and then enjoy them out on the road!
INGREDIENTS:
Potato-Cheese Perogy Filling
6 large red-skinned potatoes (not baking potatoes), peeled and halved
4 – 6 oz medium cheddar cheese
1 medium onion, diced, sautéed in butter
salt and white pepper to taste
½ cup dry cottage cheese
Dough
4 ½ cups flour
½ cup vegetable oil
1 cup milk, room temperature
1 cup boiling water
1 tsp salt
DIRECTIONS:
Potato-Cheese Perogy Filling
1. Boil potatoes as you would for mashed potatoes. Drain.
2. While potatoes are hot, stir in cheddar. Cover until cheese is melted, (about 1 minute).
3. Stir in sautéed onion; using potato masher, mash until smooth. Sprinkle with salt and pepper to taste.
4. Using clean cloth, squeeze out all moisture from cottage cheese. Stir into potato mixture. Sprinkle with salt and pepper to taste.
Dough
1. Mix together flour, oil, milk, water and salt. Knead dough until smooth. Let stand for 30 to 60 minutes.
2. With rolling pin, roll out really thin. Cut dough into squares in desired size. Spoon about 1 tbsp of potato-cheese filling onto each square. Fold dough into triangle and pinch edge closed to seal in filling.
3. Add to pot of boiling water. Once floating, cook for 1 to 1½ minutes.