Check out Len Dubois Trucking for some great meals you can make at home and take with you on the road. Save money and eat better! Follow us on Facebook & Twitter for updates, info, trucking pictures, and more.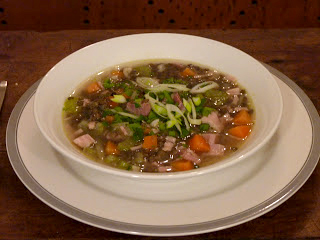 Nothing hits the spot better than a hot bowl of soup, especially on those cold fall days. Make this recipe ahead of time at home and freeze it so you can quickly warm up a home cooked meal while you're on the road.
INGREDIENTS
1 cup dried lentils
1 cup chopped celery
1 cup chopped carrots
1 cup chopped onion
2 cloves garlic, minced
1 1/2 cups diced cooked ham
1/2 teaspoon dried basil
1/4 teaspoon dried thyme
1/2 teaspoon dried oregano
1 bay leaf
1/4 teaspoon black pepper
32 ounces chicken broth
1 cup water
8 teaspoons tomato sauce
DIRECTIONS
In a 3 1/2 quart or larger slow cooker combine the lentils, celery, carrots, onion, garlic and ham.

Season with basil, thyme, oregano, the bay leaf and pepper.

Stir in the chicken broth, water and tomato sauce.

Cover and cook on Low for 11 hours. Discard the bay leaf before serving.