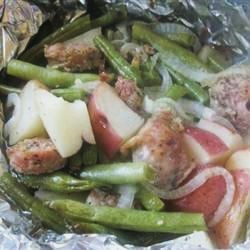 Here's a simple dinner any truck driver can toss together quickly and easily in the truck with the use of a lunch box stove. For easier clean up in the truck, chop all your ingredients and put them together before you leave that way all you have to do is put your foil packet in the lunch box stove.
Ingredients
1/2 Cup fresh green beans, trimmed and halved
1 medium red potato, cubed
1/4 large onion, sliced
1/4 pound smoked sausage, cut into 1 inch pieces
1/4 teaspoon salt
1/4 teaspoon ground black pepper
1/4 teaspoon vegetable oil
1/4 teaspoon butter
1 tablespoon and 1 teaspoon water
Directions
On a large sheet of foil, place the green beans, red potatoes, onion, and sausage.
Season with salt and pepper, sprinkle with oil, and top with butter.
Tightly seal foil around the ingredients, leaving only a small opening. Pour water into the opening, and seal.
Cooking in a Lunch Box Stove
If you're using a lunch box stove, place the foil packet in the stove and cook for about 45 minutes to an hour, until the sausage is browned and the potatoes are soft.
Cooking on a BBQ or in the Oven
You can also cook this on a BBQ or in the oven. Use a high temperature on the grill, or 350 degrees in the oven. Place foil packet on the prepared grill of the BBQ, or directly on the oven rack. Cook 20 to 30 minutes, turning once, until sausage is browned and vegetables are tender.
Nutrition
Calories 544 kcal Carbohydrates 21.3 g Cholesterol 80 mg Fat 38.4 g Fiber 4.5 g Protein 28.3 g