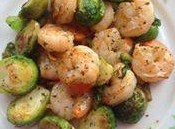 Enjoying a great home cooked meal while you're over the road isn't impossible; it just takes a little planning. This meal doesn't heat up so well and is best prepared when you want to eat it, but if you have an electric frying pan in the truck it's quick and easy to put together.
INGREDIENTS
8 Brussel Sprouts cut in half
8 pre cooked shrimp
2 garlic cloves sliced
1-2 pinch of basil
1 Teaspoon butter
1 Teaspoon olive oil
salt and pepper to taste
DIRECTIONS
Preheat a skillet with a little olive oil, add garlic and brussel sprouts.
Cook for about 2 min on med-high heat, flipping your sprouts so they cook on both sides.
Add butter, once it's melted add shrimp.
Season with salt and pepper and basil.
Make sure you flip sprouts and shrimp so that both sides have nice color. Once everything has a nice brown color its done.
Note: If you don't like Brussel Sprouts then substitute them with 1 cup of green beans, or cauliflower, or broccoli, or a combination of your favorite vegetables.