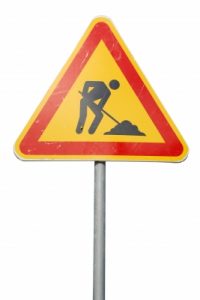 This week is National Work Zone Awareness Week. With construction season kicking off in many states and provinces it is time to focus on and prepare for safety in construction areas.
Work zones pose many risks because of the congestion they cause and all the activity of the personnel and equipment in them. Every year hundreds of people are killed and thousands are injured in work zones. Contrary to popular belief four out of every five fatalities and injuries are to motorists traveling through constructions zones.
What You Need to Know About Traveling Through Construction Work Zones
1. Pay attention to and follow the signs. Bright-orange diamond-shaped warning signs are posted well in advance of road construction projects. Be prepared to merge or change lanes as directed by markers, signs or flagmen.
2. If you see a "Flagman Ahead" warning sign, stay alert and be prepared to obey the flagman's directions. In a work zone, a flagman has the same authority as a regulatory sign. A driver can be cited for disobeying a flagman's instructions.
3. Slow down and check your speed. Construction work zones often have reduced speed limits to help with the flow of traffic and reduce the risk of fatality and injuries to both motorists and the work crew. Remember traffic fines are doubled for violations in construction work zones.
4. Pay Attention to the roadway and traffic ahead. Just because you are driving at a reduced speed or creeping along so slowly you feel like you aren't getting anywhere at all doesn't mean you shouldn't still pay attention. There is a lot going on in construction work zones and this is not the time to start playing games, apply makeup, text while driving etc. You must keep your eyes on the road and watch out for stopped or slowing traffic and slow moving construction vehicles and of course constructions workers.
5. Until you see the sign that indicates you have left the construction work zone, follow the posted construction work zone signs. Just because you can't immediately see workers or equipment doesn't mean they aren't there.
Rear end collisions are the most common construction work zone accidents, so again pay attention to the roadway in front of you and increase your following distance. When driving through constructions work zones, be patient and courteous to other motorists and construction work zone crews. Roadway construction projects may add some delay to your trip, but such projects will improve road conditions and promote safer driving for everyone.
Image courtesy of artur84 at freedigitalphotos.net