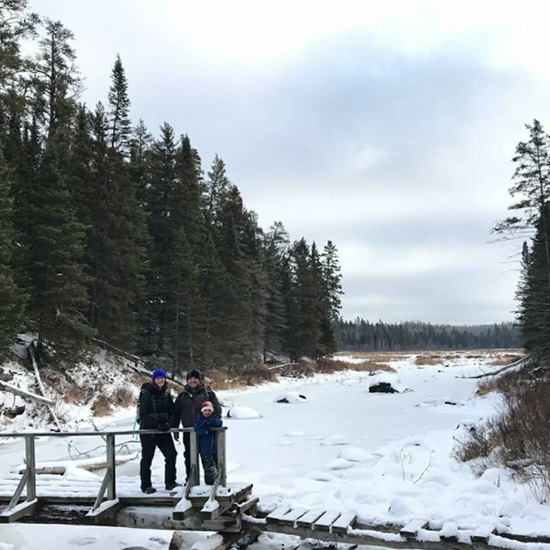 Do you know what time it is? It's Family Time! During February, you can do tons of things with the family to create some lasting memories! So go out and have some fun. You deserve it!
A Maze in Corn Snow Maze
A Maze in Corn is working hard on getting this year's snow maze ready for the public! With the beautiful weather we have been experiencing, the opening has been pushed back, but they hope to open on January 30, 2021 (update on January 25).
A Maze in Corn is home to the Guinness Book of World Record's largest snow maze! You can experience an out of this world adventure trekking through the maze, visiting the snow houses, and much more!
Visit A Maze in Corn's website for upcoming information.
Explore FortWhyte Alive
Whether you want to hike, bike, skate, ski, toboggan, fish, or do some wildlife viewing, you can at beautiful FortWhyte Alive!
You never know what intriguing, unforgettable memories you'll create with your family during your visit. Whether you are participating in your favourite outdoor activities or trying out a new adventure, your visit will be memorable!
Festival Du Voyageur (February 13 to 21)
With the world around us looking so different, so will Festival du Voyageur 2021. Even though it will be different than year's past, Festival du Voyageur is committed to bringing you the joie de vivre we're used to feeling every February.
The 2021 edition will feature:
A series of virtual concerts and events presented by Caisse Financial Group and Bell MTS
French Canadian meal kits that you can take home and enjoy with a virtual show
Virtual versions of classic Festival du Voyageur contests like the Beard Growing Contest, Pea Soup Competition, Fiddling Contest and the Jigging Contest
A series of educational vignettes on Métis culture in partnership with the Union Nationale métisse Saint-Joseph du Manitoba
A series of instructional videos showing Manitobans' "How to Festival from Home."
A modified Canada Life School Program that brings fur trade and Indigenous histories into schools with pre-made craft kits, virtual presentations from Fort Gibraltar and free educational activities for teachers and parents
In planning the 2021 edition, Festival du Voyageur is keeping public health guidelines and the health and well-being of festivalgoers, artists and team members at the forefront. As the COVID-19 pandemic evolves, so will the plans for Festival du Voyageur.
For more information, please visit their website.
The Forks' Outdoor Skating Rinks
Whether you want to glide across the Centennial River Trail or explore the Arctic Glacier Winter Park, you can, and your family can have a fantastic adventure at the Forks!
At Arctic Glacier Winter Park, skate on over a full kilometre of groomed skating trail along magically lit paths to the CN rink. Take a twirl under The Canopy, glide under the lights on the Historic Rail Bridge or simply walk the site and take in the thousands of beautiful lights along the way.
Bring your toboggan and slide down any of the hills on site. Look for the Ai Wei Wei Forever Bicycles Sculpture (made of 1254 bikes) for a great backdrop to your sledding. Stop and take a selfie under the archway in the Prarie Garden. It's on the most photographed places on the site. The Canopy rink near The Forks Market is a perfect place for beginners.
Listen at CN Stage and The Canopy rink for special playlists made just for us by Manitoba Music.
The Winnipeg Foundation Centennial River Trail is about getting outside safely and enjoying the best season in Winnipeg, winter.
This year you will be able to walk, bike, skate and cross country ski along the city's beautiful rivers, making it one of the "biggest" trails ever.
Jack Frost Challenge (February 7 to 13)
The Jack Frost Challenge is a free, week-long winter challenge for ALL Manitobans and is ran by the Green Action Centre.
Gather a team of 1-5 family members, friends, or co-workers to complete 130 collective kilometres of outdoor activities. This could include walking, running, biking, skating, cross-country skiing, snowshoeing, tobogganing, & more!
All you need to do is register and log your kilometres of outdoor activity during the week! Not only is this a fun activity that gets the whole family moving, but you can also win some great prizes by participating!
This year they have two grand prizes available; two participants that complete their fair share of at least 26km's during the week of February 7-13 will be entered to win one of two STAYCATIONS!
Staycation for two at The Fort Garry Hotel – Castle Package!
2 night stay at Pinewood Lodge in Whiteshell Provincial Park!
Visit Green Action Centre's website for more information.