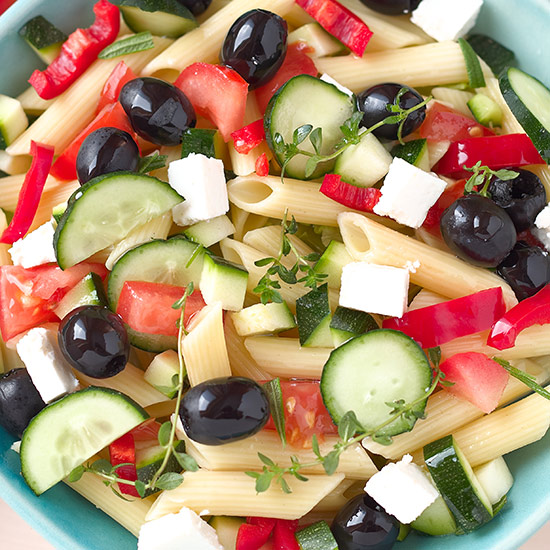 During the hot summer months, there is nothing better than tossing together a quick cold meal! Try out this Greek Pasta salad recipe which works well as a meal on its own or as a side to your perfect BBQ!
INGREDIENTS
1 (16 ounce) package penne pasta
1/4 cup vegetable oil
1 teaspoon lemon juice
1 teaspoon dried basil
1 teaspoon ground black pepper
1 teaspoon garlic salt
2 tomatoes, chopped
1 green bell pepper, chopped
1 sweet onion, chopped
1 cucumber, coarsely chopped
1 cup black olives, chopped
DIRECTIONS
Cook pasta in a large pot of boiling water until al dente. Drain, and rinse in cold water.
In a small bowl, mix together oil, lemon juice, basil, garlic salt, and black pepper.
In a large bowl, combine pasta, tomatoes, green pepper, onion, cucumber, and black olives.
Add dressing, and toss to coat.
Chill in the refrigerator for 30 minutes.