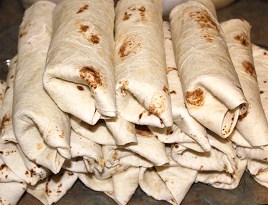 We bet you didn't know you could make breakfast burritos, freeze them and take them in the truck with you. Truck drivers everywhere have to deal with the busy morning rush and often skip breakfast or make unhealthy choices because they are quick to grab and go. If this sounds like you try out this make ahead breakfast burrito that you can warm up in two minutes. The best part of making your own meals is you get to decide what goes in it. If you don't like the ingredients we've listed, switch them out or add more to the list to get your perfect breakfast.
Ingredients:
10 links breakfast pork sausage, cut into 1/2-inch pieces
1-1/4 red onion, sliced
1-1/4 cups red pepper strips
1-1/4 cups green pepper strips
10 eggs, beaten
10 (8 inch) whole wheat tortillas
2-1/2 cups Shredded Cheese
Directions:
Cook sausage, onions and peppers in medium nonstick skillet on medium heat 4 to 5 min. or until sausage is done and vegetables are crisp-tender. Remove from skillet.
Add eggs to skillet; cook and stir 2 min. or until set. Return sausage mixture to skillet; stir. Top with cheese.
Spoon onto tortillas; fold in opposite sides of each tortilla, then roll up burrito-style.
Wrap burritos individually in tin foil or plastic wrap and then place into freezer bag. You can store your breakfast burritos for up to 3 months in the freezer.
To reheat, unwrap burrito from tin foil or plastic wrap. Wrap the burrito in a paper towel and microwave for 2 minutes or until warmed through.
Nutritional Information
Calories 341 kcal Carbohydrates 30.2 g Cholesterol 261 mg Fat 19.6 g Fiber 3.1 g Protein 20.4 g Sodium 582 mg