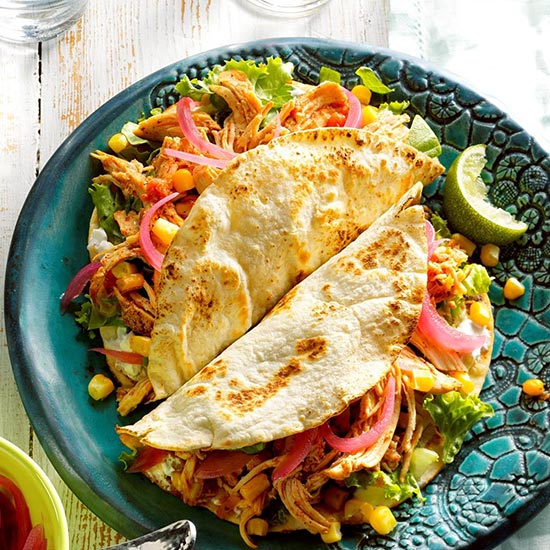 This recipe has everything! Chicken, citrous, spice, and flavour, what more could you want? This recipe is perfect for preparing in the morning in your crockpot. By the time you've finished your workday, your dinner is already waiting for you!
INGREDIENTS
1-1/2 pounds boneless skinless chicken breast halves
3 tablespoons lime juice
1 tablespoon chili powder
1 cup frozen corn, thawed
1 cup chunky salsa
12 fat-free flour tortillas (6 inches), warmed
DIRECTIONS
Place chicken in a 3-qt. slow cooker. Combine lime juice and chili powder; pour over chicken. Cook covered on low until chicken is tender. About 5-6 hours.
Remove chicken. When cool enough to handle, shred meat with 2 forks; return to slow cooker. Stir in corn and salsa. Cook covered on low until heated through. About 30 minutes. Place filling on tortillas.
TIPS
Add in your favourite extras like sour cream, pickled onions, shredded lettuce, shredded cheese, or anything else you're craving to spice it up!