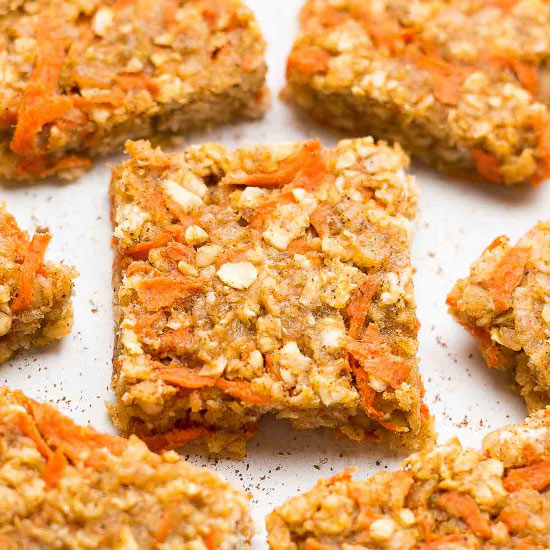 Looking for a fresh new snack idea that won't pack on the pounds? Check out this Carrot Cake Granola Snack. It's super easy to make, no butter or refined sugar, and only 31 calories per bark, this makes the perfect on-the-go snack for truck drivers.
INGREDIENTS
1 ½ cups crisp rice cereal
1 cup old-fashioned oats
1 ½ tsp ground cinnamon
¼ tsp ground nutmeg
1 tsp coconut oil or unsalted butter, melted
2 large egg whites, room temperature
¼ cup plain nonfat Greek yogurt
3 tbsp pure maple syrup, or honey
½ tsp salt
1 cup freshly grated carrot (about 1 medium, peeled first!)
DIRECTIONS
Preheat the oven to 300°F, and lightly coat an 8" square pan with nonstick cooking spray.
In a medium bowl, combine the rice cereal, oats, cinnamon, and nutmeg.
In a separate bowl, whisk together the coconut oil and egg whites. Add the Greek yogurt, maple syrup, and salt, mixing until thoroughly combined.
Stir in the cereal mixture. Gently fold in the carrot.
Gently press the mixture into the prepared pan.
Bake at 300°F for 16-20 minutes or until lightly golden and the center feels firm to the touch.
Cool completely to room temperature in the pan before slicing into squares.
This recipe freezes well and can be kept in the fridge for up to a week in an airtight container.