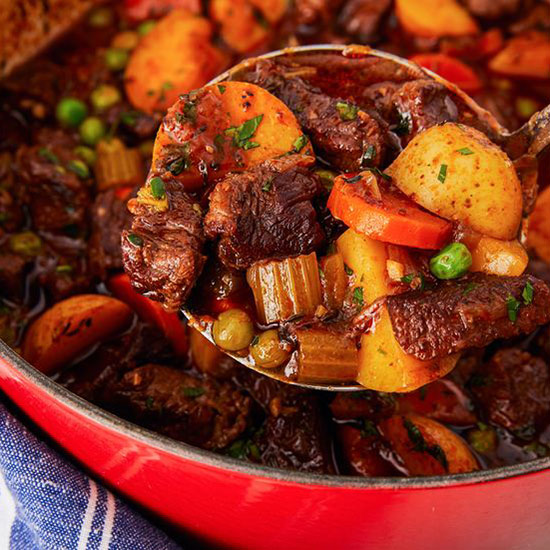 Let's be honest, February is like the Wednesday of months. It's cold, the holly-jolly spirit is gone and Spring is so close, yet so far! Well, warm up your spirits with this delicious tasting beef stew that is perfect to make at home and warm up on the road.
INGREDIENTS
1 tbsp vegetable oil
2 lb beef chuck stew meat, cubed into 1″ pieces
1 tbsp extra-virgin olive oil
1 onion, chopped
2 carrots, peeled and cut into rounds
2 stalks celery, chopped
3 cloves garlic, minced
1/4 cup tomato paste
6 cups low-sodium beef broth
1 tbsp Worcestershire sauce
1 tsp dried thyme
2 bay leaves
1 lb baby potatoes, halved
1 cup frozen peas
Kosher salt
Freshly ground black pepper
DIRECTIONS
In a large pot, over medium heat, heat oil. Add beef and cook on all sides until seared (about 10 minutes) working in batches if necessary. Transfer beef to a plate.
In the same pot, cook onion, carrots, and celery until soft ( about 5 minutes). Season with salt and pepper and add garlic and tomato paste and cook until garlic is fragrant, and tomato paste has darkened (about 2 minutes).
Add beef back to the pot then add broth, Worcestershire sauce, thyme, and bay leaves.
Bring to a boil then reduce heat to a simmer. Season with salt and pepper. Cover and let simmer until beef is tender (about 30 minutes).
Add potatoes and simmer, covered, until potatoes are tender (about 15 minutes).
Remove bay leaves. Stir in peas and cook until warmed through (about 2 minutes).