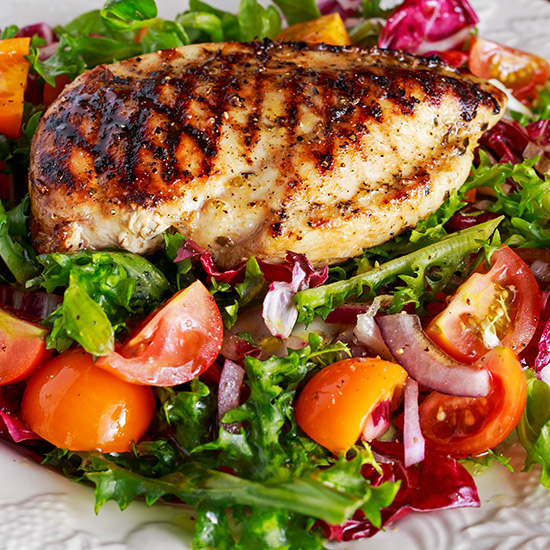 Just because you're a truck driver, doesn't mean you have to miss out on one of the summer's favorite pastimes – cooking on the grill. A small camping grill is a wonderful addition to the tools you take on the road with you. We're not going to tell you how to make the perfect steak, cause let's face it, who doesn't know how to do that already. If you're looking for some gold old fashioned home cooking done on the grill try this turkey breast recipe.
INGREDIENTS:
1 clove garlic, peeled and minced
1-1/2 teaspoons finely chopped fresh basil
1/4 teaspoon ground black pepper
1 (3 pound) boneless turkey breast halves
3 whole cloves
2 tablespoons vegetable oil
2 tablespoons soy sauce
1 tablespoon lemon juice
1-1/2 teaspoons brown sugar
DIRECTIONS:
In a small bowl, mix together the garlic, basil, and pepper. Rub over the turkey breasts. Insert one clove into each end of the turkey breasts and one in the center.
In a large shallow dish, blend vegetable oil, soy sauce, lemon juice, and brown sugar. Place the breasts in the dish, and turn to coat. Cover, and marinate in the refrigerator at least 4 hours.
Preheat grill for high heat.
Lightly oil the grill grate.
Discard marinade, place turkey breasts on the grill. Close the lid, and grill turkey breasts about 15 minutes on each side, or to an internal temperature of 170 degrees F (68 degrees C).
BBQ Tips and Tricks
To avoid losing juices during turning, always flip your meat or vegetables using tongs or a spatula, rather than a fork.
Try to limit the flips. Ideally, you should flip each item once during the grilling process.
Whatever you do, don't press down on burgers or chicken (or anything) with a spatula while they're grilling! This squeezes out the juices and once they're gone.
For great smoky flavor, soak some wood chips (hickory, oak, or other hardwoods but not treated lumber!) in water for a while, then throw them onto your charcoal and cover the grill, or if you're using gas, put them into your smoker box following the manufacturer's instructions.
To infuse grilled foods with herb essence, toss herbs directly onto the charcoal while you're grilling. Or, if you're using a gas grill, soak the herbs in water, and place them on the grate before putting your food on top of them.
If you want to baste your meat or vegetables, save this step for last. That way the sugars in your marinade or sauce won't have time to caramelize or burn.