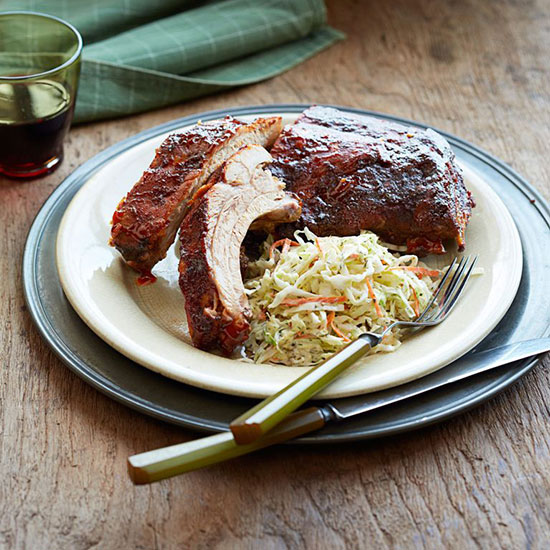 Who doesn't love ribs? With this recipe you can even make your own homemade tangy sauce from scratch! Make it at home and then warm it up out on the road.
INGREDIENTS:
2 tbsp. chili powder
2 tbsp. smoked paprika
1 tbsp. brown sugar
1 tbsp. onion powder
2 rack baby back pork ribs
1 c. ketchup
1/4 c. Worcestershire sauce
3 tbsp. cider vinegar
3 tbsp. molasses
2 tsp. crushed red pepper
salt
Black pepper
DIRECTIONS:
In medium bowl, combine chili powder, paprika, brown sugar, onion powder, 1 teaspoon salt, and 1/2 teaspoon black pepper. Cut racks of ribs into sets of 3 bones. Rub spices all over ribs.
In 7- to 8-quart slow cooker bowl, whisk ketchup, Worcestershire sauce, vinegar, molasses, and red pepper. Add ribs to bowl, bone sides down; do not submerge. Replace lid; cook on high 4 hours or on low 7 hours or until tender.
When ready to serve, arrange oven rack 5 to 6 inch from broiler heat source; preheat on high. Transfer ribs to large pan. Pour cooking liquid into fat separator (don't know what a fat separator is? Neither did we! But there is a way to use a ziploc bag!); discard fat. Brush liquid all over ribs. Broil ribs 2 to 3 minutes or until slightly charred. Brush with liquid again before serving.
TIPS:
Ribs can last three to four days in an air-tight container placed in the fridge.