Submitted by Jeremy Derricks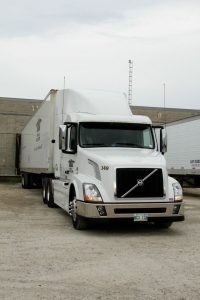 Working for a good trucking company and working for a bad one has something in common – it's on you, the driver. This is your career and you need to take control of it. Part of it is having a good outlook and working well with others to do your job. Another part is choosing a company that's right for you.
The trucking industry has a lot of standardization. The rules are the same, pay scales are similar, and the equipment is identical. Where trucking companies differ is how they're managed and how they deal with their employees.
When I first started driving, I worked for a trucking company out of Winnipeg. I was hired by an owner operator and drove team with another of his employees. It was a bad experience. The equipment wasn't maintained properly, communication was poor, and drivers were disposable. Both my team partner and I quit after about 6 months.
My options were a little limited, with only 6 months experience, when I looked for another job. I was young, only 21, but had the ability and enthusiasm to do the job. I had no criminal record, and a clean driving abstract, so my options weren't too limited if I wanted to drive team again. But I did not want to drive team – at all.
I received a few offers to drive OTR as a single driver; then I had a meeting with Jason here at Len Dubois Trucking and accepted his offer immediately.
Not to blow smoke up Jason's butt, this company seemed a lot more attractive than the others – by far. The company had new equipment, the people seemed happy, not living in fear or stressed out; and Jason seemed honest, he didn't promise everything under the sun. He told me about the company and what they did – it wasn't a sales pitch. 13 years later and they still haven't found a way to get rid of me.
My point is that I knew what I was looking for and I looked. I wanted to drive decent equipment, work with people who weren't on the edge of a nervous break down, and not be essentially lied to. I took a tour, spoke with some of their people, and got a good vibe. For me, it was a no brainer.
This was back in 2001. It was more difficult to find out about a company. Now with the internet it's a bit easier. You can find out a lot about a company from other drivers online and from a company's website and social media to get a feel for them.
When you're on the road you can see the condition of a company's equipment and speak with their drivers. When you meet with a company try to get know what they do and how they operate. When you meet with a recruiter ask questions which will give you answers about your priorities; whether that's trip length, home time, money, specific lanes and areas they run, or what ever information you need to make a decision. One of the worst things you can do is not ask questions.
Whether you're a company driver or an owner operator you need to know what you're looking for in a company and what you want to accomplish in your career. Have a good idea of your priorities and find a company which you think fits your expectations.
Jeremy Derricks is a long time driver with Len Dubois Trucking.
[/fusion_builder_column][/fusion_builder_row][/fusion_builder_container]