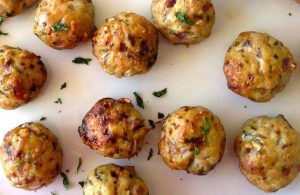 Eating the same meals all the time can get kind of boring, especially when you've been eating the same truck stop food for years! Maybe it's time to start bringing meals from home. This Thai Chicken Meatball recipe is easy to make, freezes well and prepares 6 home cooked meals for you to take in the truck with you.
Ingredients
500g ground chicken or turkey
¼ cup sweet chilli sauce, plus extra for dipping
3 spring onions, chopped
1 bunch coriander, chopped (swap for parsley if you don't like coriander).
Directions
Preheat oven 180C/360F.
Combine ingredients in a bowl, and mix well.
With wet hands, shape into meatballs.
Place on a paper-lined baking tray and bake for 15-20 minutes; internal temperature 160 degrees.
Serve with extra sweet chilli sauce or dipping sauce with rice or noodles.
Don't like this recipe? Don't worry we have lots of different ones. Check out more truck friendly recipes from Len Dubois Trucking.