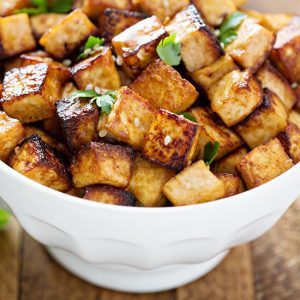 Whether you're a tofu lover or simply being adventurous you'll love this easy to make tofu recipe. It's a great make-at-home recipe that you can reheat in the microwave.
INGREDIENTS:
10 oz firm tofu, diced
1/4 cup water
2 tbsp tamari or soy sauce
1 tbsp apple cider vinegar
1 tbsp maple syrup
1 tsp garlic powder
1/8 tsp cayenne powder
1 tsp cornstarch
Extra virgin olive oil (optional)
Chopped chives (optional)
DIRECTIONS:
Mix the marinade ingredients in a mixing bowl (water, tamari or soy sauce, vinegar, syrup, garlic powder and cayenne powder) until well combined. Add the diced tofu and let it marinate, covered in the fridge for at least 15 minutes. If you let it marinate longer, it will have a more intense flavor.
Strain the tofu, but don't discard the liquid.
Sautée the tofu in a frying pan until golden brown. You can add some oil or not, it's up to you.
Add the marinade liquid to a bowl with the cornstarch and mix until well combined. Pour the sauce into the frying pan and cook until it thickens.
Serve and garnish with chopped chives (optional).
Additional Notes:
Keep leftovers in a sealed container in the fridge for 4 to 5 days.