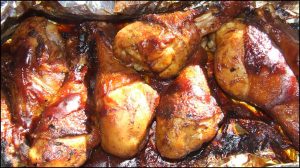 If you're looking for a great make ahead meal to take on the road with you try out this Sweet Chili Chicken recipe. The marinade is a perfect combination of sweet and spicy and is great to put on any kind of chicken.
INGREDIENTS
2 tablespoons honey
5 tablespoons sweet chili sauce
3 tablespoons soy sauce
12 chicken drumsticks, skin removed
DIRECTIONS
In a large bowl, mix together the honey, sweet chili sauce and soy sauce. Set aside a small dish of the marinade for basting. Place chicken drumsticks into the bowl. Cover and refrigerate at least 1 hour.
Cooked it at 350 degrees for 1/2 hour in a glass dish covered with tin foil. Then cooked for another 1/2 hour with the tin foil off. Baste every 10 minutes for the last half hour.
OR put it on the grill! Cook at medium-high heat on a lightly oiled grill for 10 minutes per side, or until juices run clear. Baste frequently with sauce during the last five minutes.