With the excitement of Christmas being right around the corner, you're probably looking for great a Christmas Day breakfast idea. Well, look no farther. With this simple eggnog pancake recipe, you'll make a delicious breakfast to start your Holiday fun.
INGREDIENTS
1 1/2 cups flour
3 tablespoons sugar
1 tablespoon baking powder
1/4 teaspoon salt
1/8 teaspoon ground nutmeg
2 eggs
1 1/4 cups eggnog
1/2 teaspoon vanilla
3 tablespoons oil (may sub melted butter)
DIRECTIONS 
In a large bowl, whisk together flour, sugar, baking powder, salt, and nutmeg. In another bowl beat eggs. Whisk in the milk, vanilla, and butter.
Lightly grease a large nonstick skillet or griddle. Pour 1/4 cup of batter onto the skillet. Cook 2-3 minutes until bubbles form in the batter and edges start to look "dry". Flip and allow to cook 1-2 more minutes until golden.
ADDITIONAL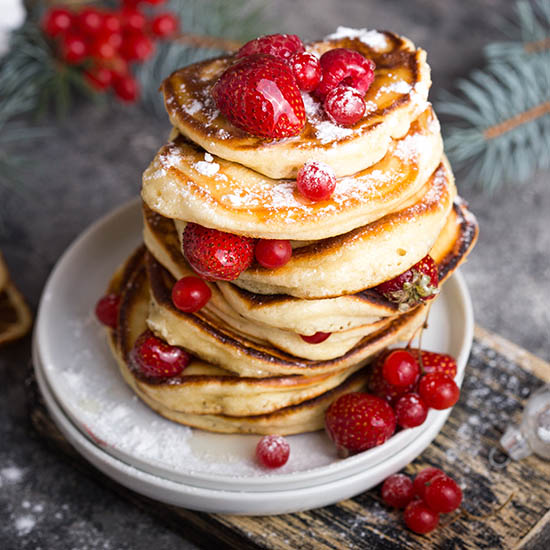 TIP
Bored of the same old round pancakes? Use Christmas style cookie cutters to cut out fun shapes and characters.