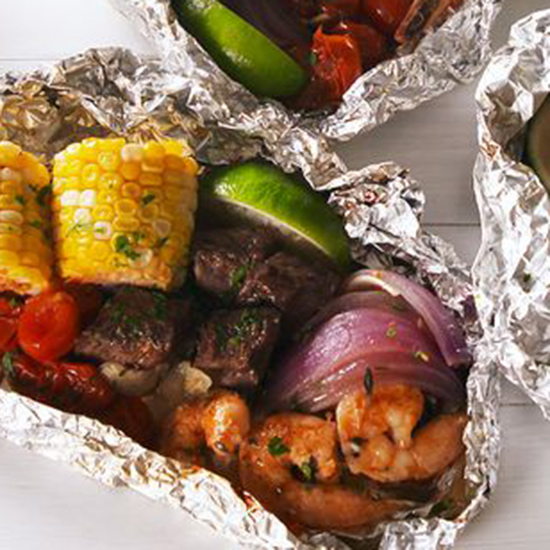 Surf & Turf is a favourite meal choice for so many of us. Why wait until you get home to cook it up. Check out the foil pack recipe that can easily be made on a portable BBQ or in a lunch box stove.
INGREDIENTS
1/4 lb. sirloin steak, cut into 1″ cubes
1/4 lb. shrimp, cleaned and deveined
1 ear corn, each cut crosswise into 4 pieces
1/2 cup grape tomatoes
1/2 small red onion, cut into thick slices
1/2 lime, sliced into wedges
1 garlic clove, thinly sliced
1/2 tbsp. Old Bay Seasoning
1/2 tbsp. fresh thyme leaves
1/2 tsp. cumin
Freshly cracked black pepper
DIRECTIONS
Preheat grill over high heat. Cut 2 sheets of foil about 12 inches long.
Divide steak, shrimp, corn, tomatoes, red onion, lime wedges, and garlic between each foil pack. Drizzle with olive oil and sprinkle with Old Bay, fresh thyme, cumin, and black pepper.
Fold the foil packets crosswise over the mixture to completely cover the food. Roll the top and bottom edges to seal them closed.
Place foil packets on the grill and cook until just cooked through, about 6 to 8 minutes per side.
Notes:
If you're using a lunch box stove instead of a grill, follow steps 1 to 4 and cook for 2 to 3 hours, depending on the type of stove you are using.