Len Dubois Trucking is a family run trucking company located in Winnipeg, Manitoba that is dedicated to the health and well being of our fleet. Follow us on Facebook & Twitter for updates, info, trucking pictures, and more!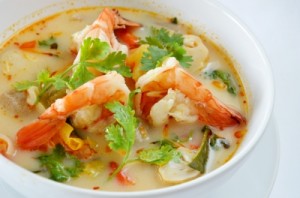 Being a truck driver doesn't mean living off burgers and fries. If you have an electric skillet in the truck try out this quick and tasty shrimp recipe.
Ingredients
1/3 cup extra-virgin olive oil
3 cloves garlic, sliced
1 teaspoon red pepper flakes
2 teaspoons paprika
2 pounds shell-on deveined jumbo shrimp
1/4 cup lemon juice
2 tablespoons chopped fresh basil
1/2 teaspoon salt
1/4 teaspoon black pepper
Directions
Heat the oil in a large skillet over high heat; cook and stir the garlic in the oil until translucent. Sprinkle the red pepper flakes and paprika into the oil. Add the shrimp and toss to coat. Pour the lemon juice over the shrimp; allow to cook until the shrimp are bright pink on the outside and the meat is no longer transparent in the center, 1 to 2 minutes more. Reduce heat to medium-low; add the basil and toss lightly. Season with salt and pepper to serve.
Nutritional Information
Calories: 238 | Total Fat: 13.9g | Cholesterol: 230mg
Image courtesy of FreeDigitalPhotos.net