Eat well while you're over the road. Follow us  on Facebook & Twitter for updates, info, trucking pictures, and more.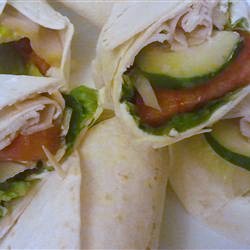 Wraps are a great alternative to sandwiches. They're quick and easy to make and fit well into the busy schedule truck drivers have to maintain. Make these ahead of time in the morning and be all ready for a healthy grab and go lunch.
INGREDIENTS
2 (10 inch) flour tortillas
1/8 (8 ounce) package cream cheese
6 ounce package sliced deli-style turkey
Choose your favorite veggies to add:

1/3 cup shredded carrots
1/3 cup minced tomato
1/3 cup shredded lettuce or romaine
1/3 cup cucumber slices
1/3 cup sliced peppers
DIRECTIONS
Spread cream cheese evenly over the tortillas.
Top the cream cheese with lettuce.
Arrange the turkey slices in even layers on top of the lettuce.
Layer your veggies on top.
Roll the tortillas into wraps.