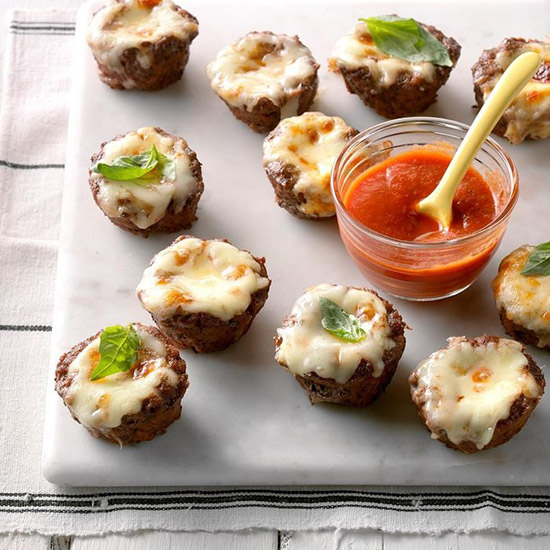 Are you jonesing for some meatballs? Try out this recipe that has all the taste of classic meatballs but has the added cheesy and pizza goodness mixed in. This recipe is perfect for prepping at home, freezing, and then heating them while on the road.
INGREDIENTS
1 large egg, lightly beaten
1/2 cup pizza sauce
1/4 cup seasoned bread crumbs
1/2 teaspoon Italian seasoning
1-1/2 pounds ground beef
1-1/2 cups shredded part-skim mozzarella cheese
Optional: Additional pizza sauce and basil leaves
DIRECTIONS
Preheat oven to 375°. In a large bowl, mix the first four ingredients. Add beef; mix lightly but thoroughly. Divide into 12 portions; press each onto the bottom and up sides of a greased muffin cup. Add cheese to centers.
Bake until meat is cooked through, 15-18 minutes. If desired, top with additional sauce and basil before serving.
Freeze option: Freeze cooled meatloaves in freezer containers. To use, partially thaw in refrigerator overnight—microwave, covered, on high in a microwave-safe dish until heated through.