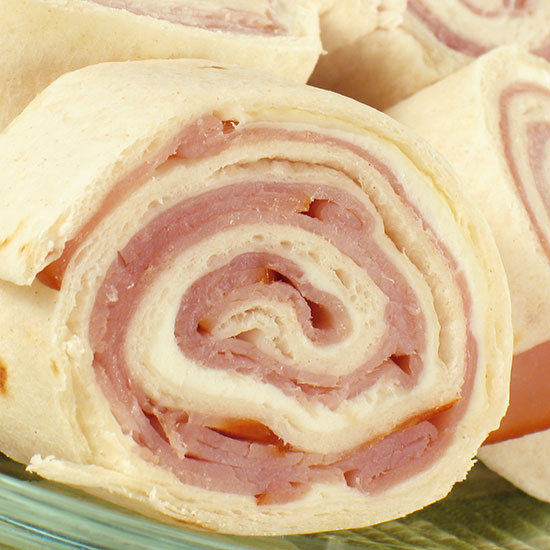 Making healthy snack decisions can be difficult and boring. If you're searching for something new to add to your list of easy snacks that will conquer your mid-day hunger, why not try a combination of easy to make Pinwheels? There are countless combinations you can put together to mix and match your snacks, changing things up from day to day. Here are three Pinwheel recipes to try out.
Jalapeño Bacon Pinwheels
INGREDIENTS:
8 oz whipped cream cheese
1 1/2 cup shredded Mexican cheese
1 tbsp dry ranch mix
1 cup jalapeño, diced
1 packages bacon, cooked & crumbled
3 each Flour tortilla
DIRECTIONS:
Mix cream cheese and Mexican cheese and heat for 30 seconds
Mix in dry ranch mix.
Spread thick onto flour tortilla.
Sprinkle with some of the diced jalapeños and crumbled bacon.
Roll and chill for 1 hour before cutting.
Mexican Chicken Pinwheels
INGREDIENTS:
2/3 cup sour cream
4 oz softened cream cheese
1/2 cup refried beans
4 oz can of diced green chilies, drain well
1/2 cup chunky salsa, drain well
1 1/2 tbsp taco seasoning
6 soft flour tortillas
2 cups shredded cheddar jack cheese
3/4 lb Chicken breast luncheon meat
DIRECTIONS:
Combine first six ingredients. Mix well by hand or use a hand mixer. Refrigerate for at least 1 hour.
Spread roughly 1/3 cup of mixture evenly to within 1/2 inch of edge of each tortilla.
Sprinkle 1/3 cup of the shredded cheese on each tortilla then top each one with 6 slices of the luncheon meat.
Roll and chill for 3 hours before cutting.
Ham and Fiesta Ranch Pinwheels
INGREDIENTS:
1 medium green bell pepper
1 medium red bell pepper
1 green onion
1 4 oz can chopped black olives
1 package Fiesta Ranch Dry Dip
2 oz smoked ham, chopped
1 6 oz cream cheese
1 package Mexican blend shredded cheese
1 package tortilla shells
DIRECTIONS:
Combine the cream cheese and the fiesta ranch dry packet in a large bowl. Mix well.
Add red bell pepper, green bell pepper, green onion, black olives, and the shredded cheese, and smoked ham. Combine all the ingredients.
Spread evenly over tortilla shells.
Roll and chill for 1 hour before cutting.
Check out more great recipes for truck drivers from the team at Len Dubois Trucking!