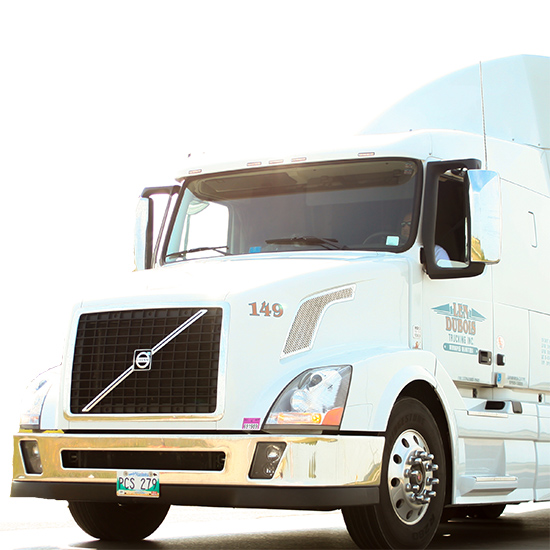 Len Dubois Trucking is expanding its fleet and that means we have a variety of trucking jobs available.
We are currently looking for professional Company Drivers and Owner Operators to join our team of drivers. We have positions available for Canada Only Lanes as well as Cross-Border Lanes. Len Dubois Trucking is also pleased to announce that we are now hiring drivers that are in the Manitoba Provincial Nominee Program.
Len Dubois Trucking is a company that prides itself on professionalism and safety of our team. From our drivers, dispatch, operations, and maintenance departments, we all work together for safety and customer satisfaction. We are looking for professional drivers who will contribute to this level of professionalism and safety.
Applicants Must Possess:
A minimum of 2 years of over the road experience
A clear driver's abstract, and
A clean criminal record.
We place a high priority on driver safety by:
Operating modern, well-maintained equipment.
Conducting pre-trip inspections of the equipment before each run to ensure that the equipment is in proper working condition by completing any repair(s) needed.
Performing regular maintenance checks.
Retiring trucks at 800,000 km – approximately every 4 years.
Retiring trailers at 1,200,000 km – approximately every 10 years.
We also provide you with the tools you need to perform your job professionally with:
Newer Volvo and Freightliner units.
Assigned trucks, so no slip seating.
An anti-idle device on all new and arriving units for increased cab comfort.
Satellite communication with dispatch.
Toll cards & transponders for tolls and ferries.
$200.00 U.S. funds cash float for emergencies and truck expenses.
Len Dubois Trucking has also been ELD Compliant since January 2017.
Earn a Good Living with Len Dubois
We are able to ensure good miles and home time with regular Winnipeg based clients, regular lanes and long-term clients. Our experienced team of dispatchers work hard to ensure that your time off and resets are taken at home, not on the road. For drivers, this equals above average pay and the ability to enjoy a life outside of the truck.