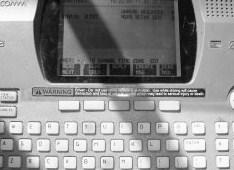 Communicating with dispatch through digital communication systems such, Qualcomm and text messages, has become part of the daily routine for many truck drivers. It's fast and it's easy, so long as you can understand what is being communicated. Many dispatchers use abbreviations when using Qualcomm, as there is a per character charge. Sometimes it's easy to decipher the message, while other times driver's are left questioning what has been sent. Using text abbreviations only works if both parties understand them.
Here is a list of common text abbreviations that you should become familiar with.
2MOR – Tomorrow
ACDNT – Accident (e-mail, Government)
ADR – Address
AFAIK – As far as I know
AIR – As I remember
AKA – Also known as
ASIG – And so it goes
AYEC – At your earliest convenience
BCOS – Because
BRB – Be right back
COS – Because
CU2 – See you
CUL8R – See you later
DKDC – Don't know, don't care
FAB – Fabulous
G2G – Got to go
GBTW – Get back to work
HAG1 – Have a good one
ICBW – It could be worse
ILBL8 – I'll be late
IUSS – If you say so
JJA – Just joking around
JTLYK – Just to let you know
LEMENO – Let me know
NE – Any
NTHING – Nothing
OBV – Obviously
PLU – People like us
R -are
RT – Roger that
TAFN – That's all for now
THX – Thanks
TTUL – Talk to you later
TY – Thank you
UOK – (Are) You okay?
VRY – Very
WAM – Wait a minute
W/END – Weekend
WRU@ – Where are you at?
Len Dubois Trucking is a family-run transportation and trucking company in Winnipeg, Manitoba. We are looking for quality Owner/Operators and company drivers. Join our team today.