Being an over the road truck driver doesn't mean you can't eat a good home cooked meal. Check out Len Dubois Trucking for some great meals you can make at home and take with you on the road. Follow us on Facebook & Twitter for updates, info, trucking pictures, and more!
Lazy Spaghetti Sauce
It's not that spaghetti sauce is hard to make in the first place, but this one is so simple any one can do it. Just use any plain spaghetti sauce and spice it up with this great recipe. The recipe makes a big batch of sauce so that it can be frozen and taken on the road to enjoy. Just remember to freeze some spaghetti to go along with it.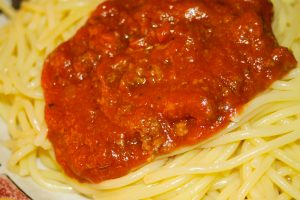 INGREDIENTS
2 Pounds ground beef
6 Cups of spaghetti sauce
2 Tablespoons garlic powder
2 Tablespoons Italian seasoning
1 Tablespoon Season Salt
1 Tablespoon dried oregano
½ Tablespoon Cayenne
DIRECTIONS
1. Combine pasta sauce, dried oregano and cayenne into a crock pot set on low setting.
2. In a skillet over medium heat brown the ground beef and drain. Over low heat, season ground beef with garlic powder, Italian seasoning, and season salt. Mix well.
3. Add ground beef to crock pot. Cover and cook on low for 4 to 5 hours. Cooking the sauce on a low setting allows the flavours to mix together.