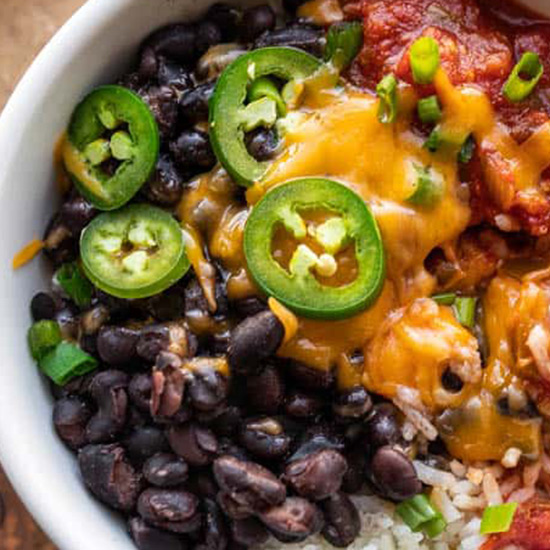 This is a perfect recipe to toss together quickly in the truck or make ahead at home to take with you. The basic recipe is simple and so many additional options can be added to the bowl so that you can enjoy your meal just the way you like it.
INGREDIENTS
2 cups uncooked long-grain white rice
1/2 tsp salt
2 15 oz. cans black beans
1/2 tsp cumin
1/4 tsp garlic powder
1 16 oz. jar salsa
6 oz. shredded cheese
1 bunch green onions
1 jalapeño (optional
DIRECTIONS
Add the rice, salt, and 3 cups water to a medium saucepot. Place a lid on top, turn the heat on to high, and allow the water to come up to a full boil. Once boiling, turn the heat down to low and let it continue to simmer for 15 minutes. After 15 minutes, turn the heat off and let it sit, with the lid in place, for an additional five minutes. Fluff just before serving.
While the rice is cooking, make the beans. Add both cans of black beans (undrained) to a small saucepot, along with the cumin, and garlic powder. Heat over medium, stirring often, until heated through.
Add one cup cooked rice, 1/2 cup warm black beans, 1/3 cup salsa, and 1 oz. shredded cheese (about 1/4 cup) to each bowl. Top with a few sliced green onions and jalapeños, then serve.
ADDITIONAL NOTES:
Adjust the quantity of rice and beans if you are adding additional ingredients to the burrito bowls
Great add ons to this meal include corn, peas, hamburger, chicken, tortilla chips, Avacado, baked vegetables
If freezing for later, let the burrito bowls cool completely in the fridge before placing them in the freezer. It's even okay to freeze the shredded cheese! Simply pull it out of the freezer and heat it up in your microwave.