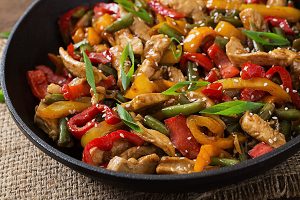 Stock your truck fridge with quality home meals instead of eating out all of the time. This Italian Chicken Stir Fry is super simple to make and freezes well, making dinner out on the road easy, so long as you have a microwave. Change it up by changing out the vegetables you choose to add or try it with beef instead of chicken to add more variety to your meals.
INGREDIENTS
2 Tablespoons Olive Oil
1 garlic clove, chopped
2 chicken breasts, cut into bite-sized pieces
salt/pepper to taste
½ small onion (diced)
2 Cups of your favorite veggies (cauliflower, broccoli, beans carrots etc.)
½ Cup Italian dressing
DIRECTIONS
In a large saucepan heat the oil, add garlic and onions and cook until onions are soft 3 to 5 minutes.
Add salt, pepper and chicken to the pan. Cook until the chicken is cooked through.
Add Italian dressing and the vegetables. Cover and cook until vegetables are cooked to desired doneness.
Serve over rice or noodles.