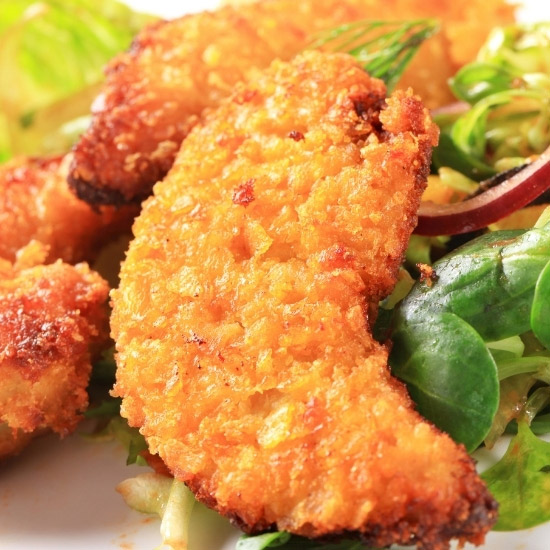 Are you ready to let out your inner child? With this Chicken Tender recipe, you can enjoy the simple charm of a childhood favourite while adding a homemade, mature taste that you just can't get from the freezer aisle.
INGREDIENTS
1 large egg (or 1/3 cup egg substitute)
1 tablespoon prepared mustard
1 garlic clove, minced
3/4 cup dry bread crumbs or Panko crumbs
2 teaspoons dried basil
1 teaspoon paprika
1/2 teaspoon salt
1/4 teaspoon pepper
1 pound chicken tenderloins
DIRECTIONS 
First, preheat your oven to 400°F. Then, in a shallow bowl or pan, combine the egg, mustard and minced garlic with a whisk. In another shallow bowl or pan, mix the bread crumbs, basil, paprika, salt and pepper.
Give your chicken tenders a good pat with some paper towels. Drying the tenders will help the breading stick and prevent it from getting soggy, so make sure you get the tenders as dry as you can.
Next, use a pair of tongs to dip a chicken tender fully in the egg mixture, shake off excess and coat in the bread crumbs. While the tender is in the bread crumbs, use the tongs to gently press the crumbs into the chicken. This will again help the breading stick and ensure it's even over the whole tender. Transfer the tender to a cooking spray-coated baking sheet and repeat with the other pieces of chicken.
After all of the chicken tenders have been breaded, bake them in your preheated oven for 10-15 minutes or until the chicken is no longer pink and has reached 165°F. You may need to flip your chicken tenders around the halfway mark to prevent one side from browning too much more than the other. If you check and notice deep browning, gently flip each tender, trying not to move to squeeze it too much.
When your tenders are done, remove them from the oven and allow them to cool for a few minutes, either on the baking sheet or on a wire cooling rack. Once they've cooled enough to touch, serve your easy chicken tenders with your favourite sauces and sides.
FREEZING/STORING
The best part about this meal idea is with this recipe, you can freeze the chicken tenders. Place the chicken tenders in a freezer storage bag or air-tight container and keep them in the freezer.
To use frozen chicken tenders, transfer them to the refrigerator to defrost overnight. Then, carefully transfer the tenders to a baking sheet and bake them in a 350°F oven until the internal temperature reaches 165°F.
Or, if you don't want to freeze them, store them in an air-tight food container for up to four days. To reheat leftover tenders, bake them in a 350°F oven until the internal temperature reaches 165°F.