Check out Len Dubois Trucking for some great meals you can make at home and take with you. Follow us  on Facebook & Twitter for updates, info, trucking pictures, and more.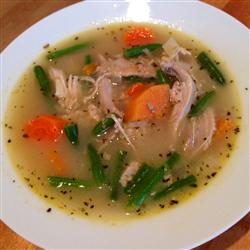 There are going to be a lot of turkey dinners coming up in the next couple of weeks. Left over turkey is a great thing to freeze up and take along with you on the road, but if you want to mix it up a little bit try out this Next Day Turkey Soup.
INGREDIENTS
2 cloves garlic, crushed and finely chopped
2 tablespoons olive oil
1 onion, chopped
1 carrot, finely chopped
1 stalk celery, finely chopped
1 tablespoon chopped fresh sage leaves (optional)
2 (32 ounce) cartons chicken broth
1 bay leaf
2 cups green beans, cut into 1 inch pieces
1 sweet potato, diced
1/2 cup uncooked small pasta
3 cups diced cooked dark turkey meat
DIRECTIONS
In a large soup pot, heat garlic in the olive oil.
Allow to brown slightly and add onion, carrot and celery. Cover.
Cook over medium-low heat until softened, 7 or 8 minutes.
Add the chopped sage to the soup pot along with the broth and the bay leaf. Bring to a simmer.
When simmering, add the green beans, sweet potato and pasta to the soup. Bring it back up to a simmer.
Lower heat and cook for about 10 minutes or until vegetables are tender and pasta is cooked.
Stir in turkey. Turn the heat off. Cover, and allow to sit for 5 to 7 minutes.