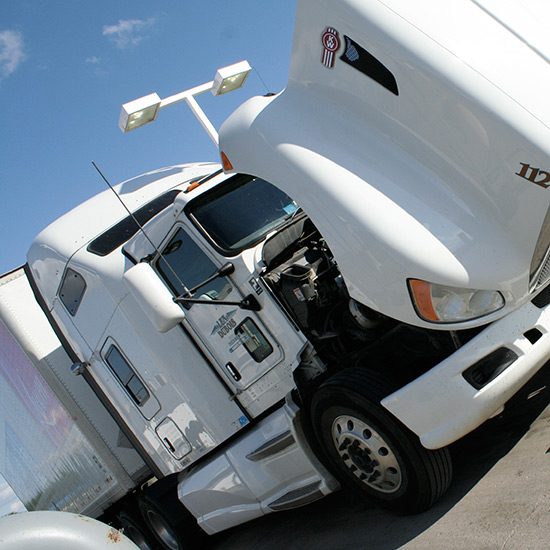 Depending on how long you have been an over the road trucker, you probably already know that it is not a matter of if you will break down on the side of the road, but rather when.
Even the best equipment that undergoes regular maintenance checks and routine daily inspections can break down. Breakdowns are always unpredictable and just downright annoying, but it is part of life on the road.
Reducing the Odds
Conducting daily pre-trip and post-trip inspections will help reduce your chances of breaking down on the side of the road. Being able to catch maintenance issues while you parked at the truck stop is makes dealing with things a lot easier.
Setting a regular vehicle maintenance schedule will also help you avoid on the road downtime.
Remember Safety First
The first thing to remember is to keep your wits about you. Breakdowns can happen anytime and anywhere; you may be in bad weather, in a bad neighbourhood, or even on a bad stretch of highway. Stay calm and don't panic, this will only lead to bad decision making and reduce your safety and the safety of others around you.
Breaking down on the shoulder exposes you to high risks. Speeding traffic near your truck and inattentive drivers are not good in any situation. As a professional driver you need to be responsible, stay alert and be aware of the potential risks and hazards around you. If at all possible, avoid pulling over on the shoulder by limping your truck to a better alternative. Off ramps are safer than the shoulder, parking lots and access roads are even better choices. Of course, the best option is a truck stop or rest area, but chances are there isn't one near.
When You Breakdown
Do you best to find a suitable place to pull over. Turn your flashers on and pay close attention to the vehicles around you.
Whenever possible, ease off the road signaling your intent to inform the other motorists around you.
If you are parked on the shoulder or ramp, get your triangles or flares set up. You can also open the hood as another method to inform traffic that you are broken down and won't be moving anytime soon.
Diagnose the problem and determine if it is a repair that you can easily make yourself, safely, while on the shoulder, or if you will need to call for repair. Different companies have different procedures for roadside assistance, so make sure you know the policy.
Call dispatch and let them know that you have broken down. You will want to keep them regularly updated as the truck is being repaired so that they can keep the customer informed.
Basic Tools for the Truck
You can luck out and quickly make a roadside repair if you carry the following tools with you:
full wrench set
vice grips
electrical tape
adjustable hose clamps
hose clamps
duct tape
plastic zip locks
extra oil
 extra coolant
 fuel conditioner
screwdriver set
tube of silicone
spare headlights
bulbs
assorted fuses
few circuit breakers
Safety Gear
You never know when or where you may break down, so keeping a supply of safety gear in the jump box will make sure that you are ready to handle anything:
full set of warm clothing
boots and gloves
sleeping bag and/or heavy blankets
dry food supply
water
flares
triangles
fully charged fire extinguisher
windshield washer fluid
cell phone
dispatch after hours phone numbers