Who's ready for some fun? Whether you're looking to get out of the house or enjoy some virtual online activities, you and your family can enjoy quality time.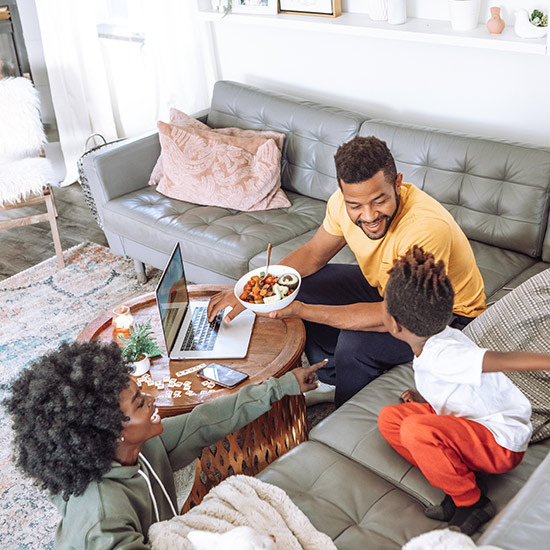 Zoo Lights
Embrace winter and see the Zoo in a whole new light at Zoo Lights! Zoo Lights is an outdoor, walk-through experience. Each evening, the Zoo experience's focus will shift from viewing animals to viewing stunning light displays.
They have made modifications to the Zoo Lights experience to ensure compliance with public health orders and that all in attendance can follow public health guidelines and advice.
Please click here to review the COVID-19 protocols and frequently asked questions before your visit.
Zoo Lights will be open six days a week from February 20, 2021 – March 28, 2021, Tuesday to Sunday.
Freeze Frame the International Film Festival for Kids of All Ages
Freeze Frame, the International Film Festival for Kids of All Ages, was created to provide young people in Manitoba access to quality films and videos from around the world. Freeze Frame selects films and videos that will entertain and challenge children and youth by exploring situations and issues not normally explored in mainstream media. While most countries produce quality movies and television programs for youth, these productions are rarely seen by the general public. Freeze Frame brings these films and videos to Manitoba because they are a window into other cultures and allow us to explore new or unfamiliar storytelling and filmmaking styles.
Freeze Frame also offers a variety of workshops, videos, activities and more all year round! The Festival dates are:
Monday, March 8
Tuesday, March 9
Wednesday, March 10
Thursday, March 11
Friday, March 12
Saturday, March 13
Sunday, March 14
Mennonite Heritage Village at Home
The Mennonite Heritage Village is bringing the museum into your living room through a series of videos called Mennonite Heritage Village at Home. Each week they will be bringing you stories, songs, and a whole bunch more. We are going to be offering a special show each week for just the kids.
Enigma Escapes Virtual Escape Rooms
You may not be able to visit escape rooms yet, but you and your family can still challenge yourselves and participate in this fun activity! Use your cursor to explore the rooms and solve puzzles as a team. These games take place within a real escape room and are hosted by an Enigma gamemaster. You can play these games on your desktop or laptop computer and see if your family is up for the challenge.
Visit Enigma Escapes' website for more details.
Winnipeg Architecture Foundation Tours
With Winnipeg Architecture Foundation Tours, you can experience interactive or digital tours of Winnipeg's beautiful and incredible buildings.
There are two options for interactive tours.
Archi 10 – Archi10 is a free bilingual app that works as a self-guided tour, sharing information about Winnipeg's built environment. The app synchronizes with Winnipeg Transit Route #10, which passes by some of Winnipeg's most significant buildings located in three important neighbourhoods: Wolseley, Downtown, and St. Boniface. When near selected places of interest, the narrators alert users and describe the buildings. Original music created specifically for these urban landscapes accompanies the user throughout the ride. While the app is tailored for use on the bus, it is also a handy resource that can be used at any time.
QR Code Tour – Decals containing QR (Quick Response) Codes have been placed on a selection of significant architectural projects and designed landscapes throughout Winnipeg. The QR Code Tour is a public education project, providing immediate and accessible information about Winnipeg's built environment via a mobile device. A growing list of participant sites are identified on the map on their website. Follow this link for more details and the map.
Follow this link for a list of digital tours. Or, if you are looking for fun activities for young children, follow this link.