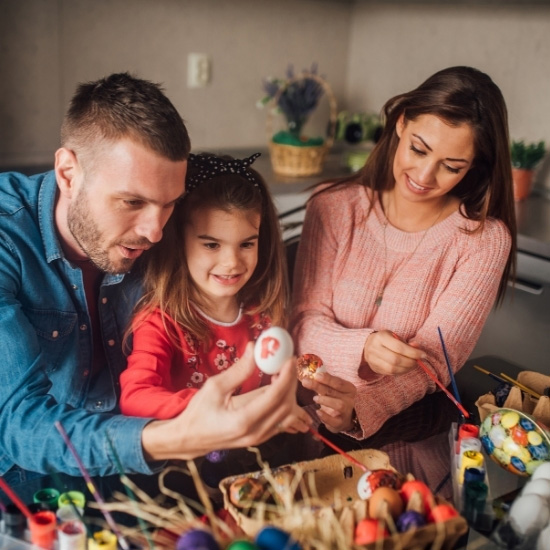 Not only is it family time, but also Springtime! Get into the spirit and try out these great spring activities with the family!
Spring Activities
Enjoy the beautiful weather with these spring activities! You don't need to travel far to create lasting memories while having fun! A lot of these ideas you can do right in your backyard, and your kids will love it!
Fly a kite
Blow bubbles
Go for a bike ride
Go camping – or set up a tent in the backyard
Start planting a garden
Become nature explorers and look for bugs, plants, and birds
Paint rocks
Go hiking
Feed the chipmunks and squirrels
Go puddle jumping
Visit a beach
Visit a park
Design an outdoor scavenger hunt
Stargaze
Play street hockey, baseball, basketball, soccer, or any fun sport
Have a water balloon fight
Have a picnic
Watch the sunset
Bake up a Storm
Who doesn't love baking? It's fun, delicious, is a great skill for your child to learn, and did we already say that it's delicious? With these Spring inspired treats, you and your family will have a great time together!
Easter Egg Cake with Strawberry Frosting – White chocolate shavings form a "nest" for chocolate eggs on this pretty pink cake. Malted milk powder gives both the cake and the frosting a toasty flavour and creamy richness.
Lemon Blueberry Bread – Of all the quick breads we had growing up, this beautiful lemon blueberry bread is the best! The citrus glaze adds a lustrous finish and locks in moisture.
Strawberry Shortcake with Thyme and Whipped Cream – This impressive, summery, thyme-scented layer cake is easier to pull off than it looks. The genoise-style sponge cake is made with melted butter for a more tender, flavorful base.
Classic Carrot Cake – This Classic Carrot Cake is moist and flavorful, and the cream cheese frosting is creamy and delicious.
Find more incredible Spring recipes from tasteofhome.com and epicurious.com.
Get Crafty
No matter the age, doing crafts together is always a fun family activity! With these Spring crafts, you can get in the sunny and happy spirit of Spring.
Follow this link to learn how to make a bird feeder out of a milk jug, spray paint, rope, glue, and birdseed.
Your little ones will love these craft ideas! Follow this link for a list of kid-friendly crafts like bug rings, a butterfly life cycle paper toy, a rainbow, and much more!
For your older children and teens, follow this link. These Spring crafts will brighten up your home and add a little flare! Learn how to make a DIY patterned carpet, mason jar flower centrepiece, spring boot door decoration, dinnerware bird feeder, book bag, and much more!
Visit Assiniboine Park Zoo
With the warmer weather, it's time to visit the zoo!
Enjoy seeing your favourite exhibits like Journey to Churchill, Toucan Ridge, Animals of Asia, McFeetors Heavy Horse Centre, Grasslands & Boreal Forest, Open Range, Shirley Richardson Butterfly Garden (opens in late Spring), and Aunt Sally's Farm.
They also Virtual Flow & Yin Yoga workshops happening! Follow this link to keep up to date about new programs happening!
Visit the Bruce D. Campbell Farm & Food Discovery Centre
The Bruce D. Campbell Farm & Food Discovery Centre is the first hands-on facility that explores how food is made in Canada. Filled with exciting and interactive exhibits, you can learn the food process starting at the farmer's wheat field to the kitchen table! The highlights of these exhibits are viewing windows into real working pig barn, where visitors will peek into a day in the life of a pig.
Visitors learn about every aspect of food production, from farming practices to retail sales. The Discovery Centre also highlights ongoing research at the National Centre for Livestock and the Environment.