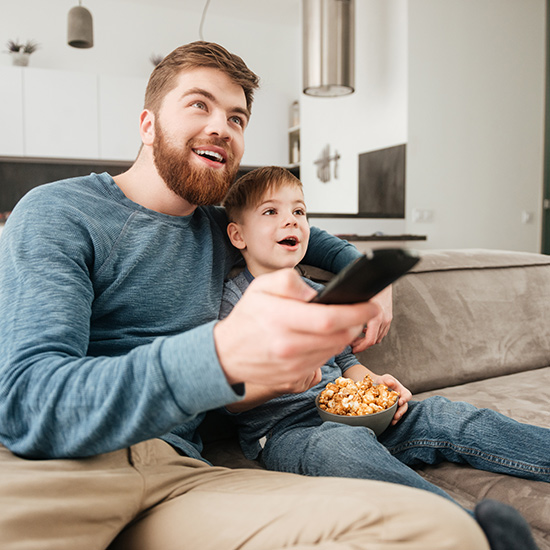 Hockey Season returns and Manitobans everywhere will be cheering on their two favourite teams! Sports is a great way to connect with family and friends. Whether you're going to a game together or just hanging out on the sofa, many families make great connections and memories while watching sports. A great thing to keep in mind is with so many of the games available online, you don't even have to be home to watch, or listen to the game together. Phone home and stay connected to your loved ones with your shared love of the game.
Winnipeg Jets – Season Opener
Date: October 4, 2017
Location: Bell MTS Place
The Jets will open the season at home on Wednesday, Oct. 4 against the Toronto Maple Leafs followed by the team's first road game at Calgary on Saturday, Oct. 7. Get the season schedule.
Manitoba Moose – Season Opener
Date: October 6, 2017
Location: Grand Rapids
The Moose begin their 76-game campaign on Friday, Oct. 6 in Grand Rapids against the reigning Calder Cup Champion Griffins. The team returns to Bell MTS Place for its home opener on Friday, Oct. 13 against the Cleveland Monsters in a 7 p.m. matchup. Get the season schedule.
Date: October 29, 2017
Location: Fort Whyte Alive
Join in on some Halloween fun! Take part in a scavenger hunt in the forest, stop by the spooky Sod House, and do a festive craft in the Interpretive Centre.
Date:October 13, 14, 20, 21, 27 and 28, 2017, from 7-11 pm
Location: Lower Fort Garry
The Governor invites you to a circus gone awry! The performers have fled, the ringmaster is missing and the animals are on the loose! Wander at your own risk through the macabre menagerie. Explore the abandoned performers' camp, creep through the frightening fun house, and watch your back for eerie entertainers hiding in dark corners of the stone fort walls.
Holidays and Celebrations
Thanks Giving – October 9, 2017
Halloween – October 31, 2017