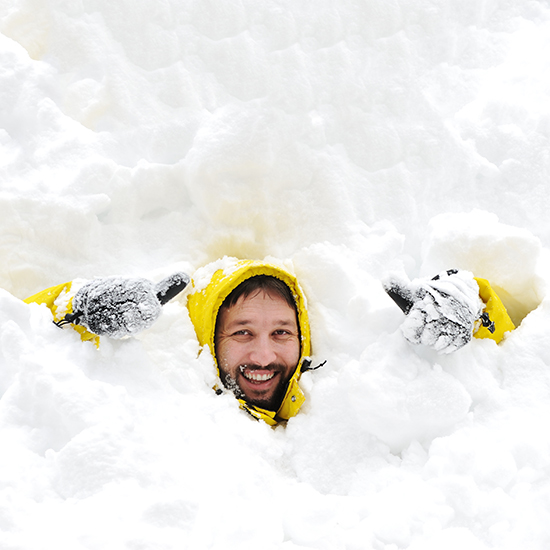 With the recent storm blowing in across Alberta and Saskatchewan, now seems like a good time to get prepared for the winter months ahead.
At Len Dubois Trucking we expect our drivers to be safe on the roads and this may mean shutting down instead of ploughing through dangerous driving conditions. However, shutting down with the over the road comforts and protection of a truck stop is not always possible.
Every year we see drivers stranded on roadsides, sometimes for days on end depending on the magnitude of the storm. Just this past winter, multiple Manitoba roads were closed due to weather on multiple occasions. The thing about winter weather is, it can be brutal and unpredictable. It is important for truck drivers to be prepared for the winter season by equipping the truck with the proper supplies. Hopefully, you'll never have to use them but you'll have them just in case.
Be Prepared for Everyday Winter Living
Be smart and make sure you have good quality winter clothing in the truck. Winter gear is useful for everyday life on the road, not just emergency situations. Drivers do have to spend time outside of the truck (fueling, walkarounds, loading and unloading, etc.) you may as well be prepared for the elements instead of letting the cold get you. For everyday living consider:
A good quality winter parka
Quality thermal, waterproof gloves
A touque, and scarf or balaclava
Snow pants
Be Prepared for Emergency Situations
Road closures happen and they don't always happen right beside a truck stop. Be prepared to get stranded. In addition to your regular trip supplies, drivers should consider putting together an emergency kit. Room in the truck is always an issue but if you pack smart you should be able to contain most of these items to a backpack.
Food and Water
Drinking water to last for 72 hours, or three gallons per person and/or pet
3-day supply of non-perishable, shelf-stable foods that can be eaten without heating them up, such as:
Canned meats, poultry and/or fish, i.e. tuna pouches, Spam, meat sticks, jerkies
Canned fruits and vegetables, i.e. fruit cups, applesauce, black olives, cranberry sauce,
Canned grains and beans, i.e. chickpeas, black beans, baked beans
Hard crackers, such as the Wasa bread, soda crackers
Peanut butter
Granola bars or energy bars
Canned Soups or Pasta
A can opener
A set of dishes
For drivers who don't do a lot of cooking in the truck, a lunchbox stove would be a good addition to your emergency supply list.
Medical and Hygiene supplies
Prescription medication
Non-prescription medication such as Advil
A first aid kit specifically for motorists to ensure you have a good selection of items
Moist towels aka baby wipes
Clothing
A wool sweater
Wool socks
Long underwear
Tools
Hand cranked radio
Flashlight and extra batteries
Whistle for calling for help
Solar charger to use with cell phone
Duct tape
A container of sand and winter sidewalk salt mixture
Candles and a lighter or matches
Foldable shovel
Screwdrivers (both flat blade and Phillips.)
Pliers
Box knife
Small selection of wrenches
Spare bulbs for marker lights and headlights
Extra fuses
Windshield de-icer and scraper
Emergency flares
Remember your safety is our top priority. Don't travel in dangerous situations if you can't avoid it, drive safely.