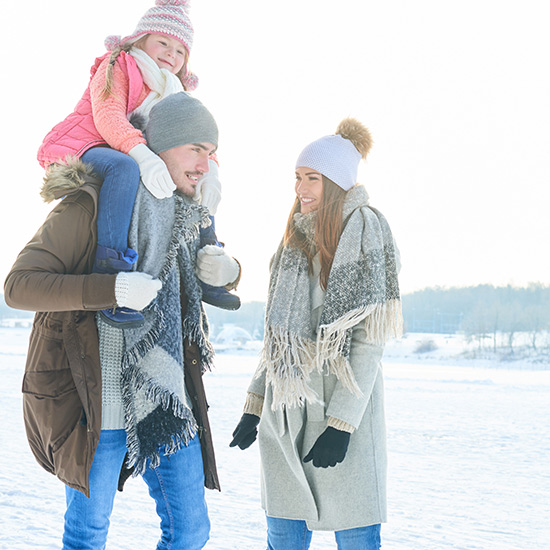 As drivers, it can be easy to come in from a trip and just veg out. We get that. Life on the road is not easy. While recuperating is necessary, and important, it is just as important to keep the ties and connections with friends and family. Next time you're in, forget about hosting a get-together, or driving around to squeeze in as many visits as possible – hit one of these events and tell everyone to meet you there. You'll be able to socialize, spend time with your loved ones and create some long-lasting memories.
December 15, 2017 – February 25, 2018 ( Recurring daily )
Location: The Forks Market
With Canopy Skating Rink located in the Forks Plaza, Festival Park Skating Rink, adjacent to the Festival Stage, a Toboggan Hill behind Inn at The Forks, and 1 km of skating tails, The Forks is your perfect one-stop location for outdoor family fun.
January 5, 2018 – February 10, 2018 ( Recurring daily )
Location: The Forks National Historic Site of Canada
Ice Castles is an awe-inspiring, must-see winter phenomenon that brings fairytales to life. Located in six different locations across North America, the ice castles are built entirely by hand using hundreds of thousands of icicles hand placed by professional ice artists. The castles include breathtaking LED-lit sculptures, frozen thrones, ice-carved tunnels, slides, and fountains.
February 16, 2018 – February 25, 2018 ( Recurring daily )
Location: Various Venues
Join in Western Canada's largest winter festival. Festival du Voyageur is the perfect venue to embrace a Manitoba winter while enjoying unique entertainment. The whole family will take pleasure in meeting Fort Gibraltar's historical characters, admiring snow sculptures created by artists from around the world, dancing and jigging to lively music, tasting delicious French-Canadian food and so much more. Bonding the traditions of the past with the vitality of the franco-manitoban community of today, Festival du Voyageur is a kitchen party not to be missed.
Holidays and Celebrations in February
February 2nd – Groundhog Day
February 4th – Superbowl Sunday
February 14th – Valentine's Day
February 19th – Louis Riel Day