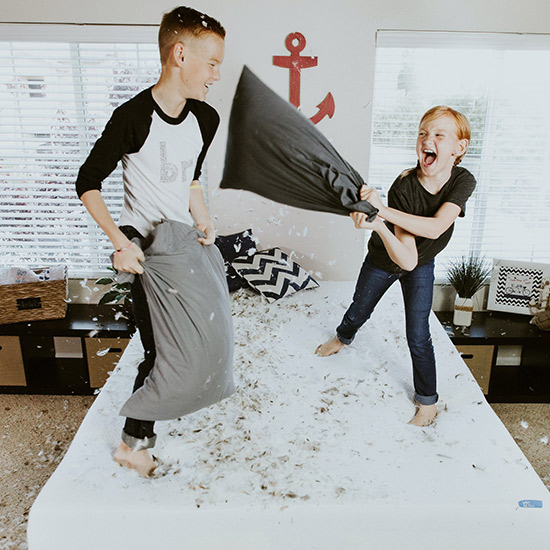 Even though you can't go out and partake in events and activities, you, and your family, can still enjoy some family time! Take a look though our list of activities that you can do right at home that the whole family can enjoy.
Arts, Crafts, and Games
1. Have a Movie Night – A movie night is always a good idea! It's fun, relaxing, and (hopefully) quiet! Watch a new release, or watch some of the classic kids' movies, or if you have older children, just a good ol' classic.
2. Magic Tricks – Search online for cool magic tricks to learn. You can even make it a contest and see who can perform the best!
3. Build a Fort – Whether you have young kiddos or teen ones, this will definitely be a fun family activity. Even if your teen rolls their eyes at first.
4. Pretend to be Spies – Grab some of that string or yarn that you keep stashed away and turn any room of your house into a laser-filled obstacle course!
5. Yoga/Exercise – Teach your kids, and even yourself, how to do yoga. Or even get that summer bod ready!
6. Origami – This is a fun and very creative family craft! Just sign into YouTube and search for 'origami for beginners' and learn this ancient and fun craft.
7. Make Jewelry – There are so many ways to make all different kinds of jewelry.
8. Creative Writing – Work together to write a short story or play! You can even reenact it!
9. Drawing/Painting – Search online for different drawing and painting tutorials. You can even draw some of your personal favorite characters from movies, tv shows, and games.
10. Make a Family Tree – Look into your family's history and make a family tree.
Backyard Games
1. Sports – Play your favorite sport with your family!
2. Make an Obstacle Course – Create the wackiest obstacle course with your family! Time each member and see who can make it through the fastest.
3. Classic Games – Teach your kids how to play the classic school games like hopscotch, skipping rope, jacks, etc.
4. Bonfire – Roast some marshmallows and smores, tell ghost stories, and just sit back around a fire.
5. Play in Puddles – This one sounds a little childish, but it can be so much fun!
6. Scavenger Hunt – Hide trinkets and clues around the yard and watch as your kids are entertained for hours!
7. Mini Golf – Make your own DIY mini golf course! You can use a variety of everyday household items and kid's toys.
8. Have a BBQ – It's finally spring! Celebrate with a BBQ!
9. Family Sack Race – You can use pillowcases, duvet cover, or a potato sack!
10. Make a Time Capsule – Have your kids (and yourself) pick an item that best represents who you are today.
Life Skills
1. Bake – Teach your kids how to bake some of their favorite goodies!
2. Cooking – Have a family cooking day! Try out some exciting recipes and have your kids help you out!
3. Sewing – Depending how old your child is, you can teach them different sewing techniques. If you have younger children, show them how to sew on a button. If you have older kids, have them help you repair torn clothes, make a stuff animal, or even add some flare to an article of clothing they have.
4. Gardening – You can set up a garden in your backyard or even plant a seed in a pot indoors; teach your kids how to care for plants. They can keep a garden/plant journal to keep track of the progress.
5. Reading – If you have little ones, have them read a book to their grade level or read to them. For older kids, have them read one of the classics.
6. Science Experiments – This one is super fun and educational! Check out Science Fun's website! They have tons of cool and fun experiments that your kids will love and teach them about the world of science.
7. Survival Knots – Go online and learn together how to tie survival knots. You don't need it until you need it!
8. How to Change a Tire – This is an important skill everybody should have! Have your younger kids stand back and watch as you change the tire. For older kids, have them help you or watch them as they perform the task themselves.
9. Build a Bird House – This is just one idea of what to build, but really it can be anything! The skill learned here is how to use tools and what tools to use.
10. Writing a Letter – This skill is often overlooked, especially today with text messages, but it is still important to learn how to properly write a hand-written letter. Have your child compose a letter to a friend or a relative and send it in the mail!
BONUS:
Make a Staycation list! List down all the places in Manitoba you want to visit when it is safe to do so!