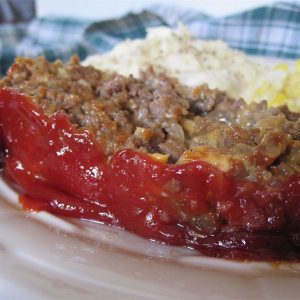 Meatloaf is a quick easy lunch or dinner for busy truck drivers. You can either make this ahead of time at home to freeze and take with you, or cook it on the road in a lunch box stove.
INGREDIENTS
1 1/2 pounds lean ground beef
1/2 cup crushed buttery round crackers
3/4 cup shredded Cheddar cheese
1 (1 ounce) package dry onion soup mix
2 eggs, beaten
1/4 cup ketchup
DIRECTIONS
Preheat oven to 350 degrees F (175 degrees C).
Stir the ground beef, crushed crackers, Cheddar cheese, and onion soup mix in a large bowl until well combined.
Whisk the eggs, ketchup, and steak sauce in a separate bowl until smooth. Mix into the meat until evenly combined, if the mixture seems too dry, add a little water. Press into a 9×5 inch loaf pan.
Bake in preheated oven until the meatloaf reaches 160 degrees F (71 degrees C) and is no longer pink in the center, 45 to 60 minutes.
It can be difficult for truck drivers to eat healthy on the road, but it's not impossible. Check more of our trucker friendly recipes.