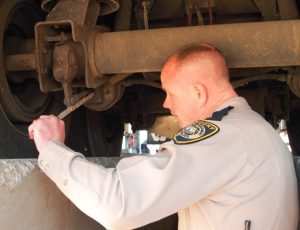 More than 13,000 brake system inspections on trucks and buses in the United States, Canada, and Mexico will be conducted during the annual inspection spree.
Improperly installed or poorly maintained brake systems can reduce the braking capacity and stopping distance of trucks and buses, which poses a serious risk to driver and public safety.
Brake inspections conducted during Brake Safety Week include inspection of brake-system components to identify loose or missing parts, air or hydraulic fluid leaks, worn linings, pads, drums or rotors, and other faulty brake-system components. Antilock braking systems (ABS) malfunction indicator lamps also are checked. Inspectors will inspect brake components and measure pushrod stroke when appropriate. Defective or out-of-adjustment brakes will result in the vehicle being placed out of service
What to Expect
Inspectors will conduct brake system inspections — primarily Level IV — on trucks and buses throughout North America, looking for either out-of-adjustment brakes or brake-system violations.
Operation Airbrake targets the following items for inspection during its roadside procedures:
Driver's license
Registration
Low air warning device
Pushrod travel (adjustment)
Brake linings/drums
Leaks and air loss rate
Tractor protection system
Once a vehicle has been selected and made safe for inspection, the Operation Airbrake procedure follows these steps:
Checking the air brake mechanical components
Checking the steering axle air brake mechanical components
Checking the brake adjustment
Building the air system's pressure to 90-100 psi
Checking the air brake antilock braking system, if applicable
Testing the air loss rate, if necessary
Testing the low air pressure warning device
Checking the tractor protection system
Finalizing the paperwork and providing the results to the driver
Len Dubois Trucking equipment is routinely checked to help ensure that our driver's never head out on the road with unsafe equipment, but driver's must be prepared for maintenance issues that develop on the road.
A proper pre-trip inspection can help you avoid unnecessary breakdowns and fines while on the road and will ensure that the equipment you are driving remains safe to operate. For more Information on conducting a full pre-trip inspection of your equipment please check out our articles: Pre-Trip Inspection: What to look at Under the Hood, Pre-Trip Inspection: What to Look at Inside the Cab, and Pre-Trip Inspection: What to look at on the Tractor and Trailer.