Eat well while you're over the road. Check out Len Dubois Trucking for some great meals you can make at home and take with you on the road. Follow us on Facebook & Twitter for updates, info, trucking pictures, and more!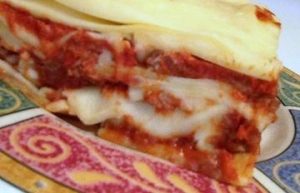 Noodle, sauce, cheese, repeat. The directions for this recipe are pretty simple. Lasagna is a great meal for truck drivers to make ahead at home, freeze and pack up for the truck. Add a side salad and you'll be all set.
INGREDIENTS
9 Cups of spaghetti sauce with beef – check out the recipe for Lazy Spaghetti Sauce
30 Lasagna Noodles
4 Cups Mozzarella Cheese
1/2 Cup Parmesan Cheese
DIRECTIONS
Preheat oven to 375 degrees F.
Combine mozzarella and provolone cheeses in a medium bowl.
Layer a 10 x16 inch-baking pan with 5 noodles. Sprinkle with a small amount of mozzarella/provolone mixture to lightly cover the noodles; cover with sauce then sprinkle with mozzarella/provolone mixture; repeat layering.
Finish with a layer of noodles, sprinkle with Parmesan cheese and top with remaining mozzarella/provolone mixture.
Bake in preheated oven at 375 degrees for 45 minutes or until cheese is nicely browned.
FREEZING
Wait until lasagna has completely cooled before cutting into serving sized pieces. To save on space in the truck fridge, wrap each piece of lasagna in parchment paper, then tin foil and freeze. The tin foil will stick to the lasagna so use of the parchment paper is a must.