Len Dubois Trucking is a family run trucking company located in Winnipeg, Manitoba that is dedicated to the health and well being of our fleet. Follow us on Facebook & Twitter for updates, info, trucking pictures, and more!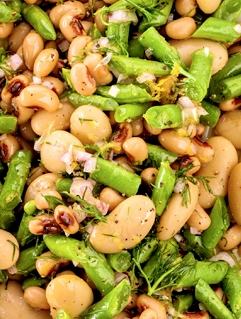 Looking for a quick energy boost to get you through your busy afternoon of driving? Try this three bean salad; it's packed with protein and fiber, and makes a healthy meal for any truck driver.
INGREDIENTS
1 shallot, finely chopped
1 tablespoon finely grated lemon zest
1/4 cup fresh lemon juice
1 15-ounce can butter beans or lima beans, rinsed
1 15-ounce can black-eyed peas or navy beans, rinsed
1/2 pound lb. green beans, trimmed, cut into 1/2-inch pieces
1/2 cup chopped fresh dill
1/3 cup extra-virgin olive oil
Kosher salt, freshly ground pepper
Directions
Toss shallot, lemon zest, and lemon juice in a large bowl and let sit 5 minutes.
Add butter beans, black-eyed peas, green beans, dill, and oil; season with salt and pepper and toss to combine.