Len Dubois Trucking is a family run trucking company located in Winnipeg, Manitoba that is dedicated to the health and well being of our fleet. Follow us on Facebook & Twitter for updates, info, trucking pictures, and more!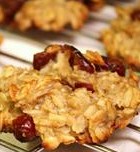 Are you looking for a sweet snack alternative to hit that after dinner craving? Try out these banana cookies. They are easy to make, taste great, and aren't loaded with sugars and fats.
INGREDIENTS
3 Ripe bananas
2 Cups rolled oats
1 Cup dates, pitted and chopped
1/3 Cup vegetable oil
1 Tsp Vanilla extract
Preheat oven to 350 degrees F (175 degrees C).
In a large bowl, mash the bananas.
Stir in oats, dates, oil, and vanilla. Mix well, and allow to sit for 15 minutes.
Drop by teaspoonfuls onto a cookie sheet lined with parchment paper.
Bake for 20 minutes in the preheated oven, or until lightly brown.
Calories 56 kcal Fat 2.4 g Fiber 1 g Protein 0.8 g Carbohydrates 8.4 g