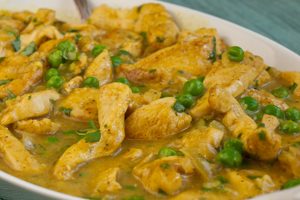 This Curry Chicken recipe is quick and easy to make, especially when it calls for leftover chicken or a store-bought rotisserie chicken. Simple enough to make in the truck, or at home ahead of time.
INGREDIENTS
1 1/2 tablespoons olive oil
1 small yellow onion, thinly sliced
2 teaspoons curry powder
1/2 cup plain yogurt
3/4 cup heavy cream
1/2 teaspoon kosher salt
1/4 teaspoon black pepper
meat from 1 rotisserie chicken or leftover chicken, sliced or shredded
1/4 cup fresh cilantro leaves, roughly chopped
DIRECTIONS
Cook the rice according to the package directions.
Heat the oil in a skillet over medium-low heat. Add the onion and cook, stirring occasionally, until soft.
Sprinkle with the curry powder and cook, stirring, for 1 minute.
Add Chicken stirring occasionally, until warmed, 3 minutes.
Add the yogurt and cream and simmer gently for 3 minutes. Stir in the salt, pepper, and tomatoes (if desired). Remove from heat and serve over rice or noodles.