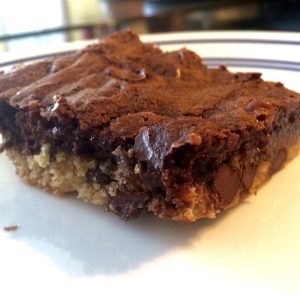 Normally we're sharing healthy make at home meal options for truck drivers but let's face it, sometimes we all like to enjoy something a little sweet. If you're looking to try out something a little different, why not try making a batch of brookies? Part cookie, part brownie this is sure to satisfy your sweet tooth. While still packed with calories, making this at home is still a healthy alternative to purchasing prepackaged snacks off the confectionary counter.
INGREDIENTS: COOKIE PART
1/2 cup butter, softened
1/2 cup light brown sugar
1/4 cup white sugar
1/2 teaspoon vanilla extract
1 egg
1 1/4 cups all-purpose flour
1/2 teaspoon salt
1/2 teaspoon baking soda
1 cup semisweet chocolate chips
INGREDIENTS: BROWNIE PART
1 cup white sugar
1/2 cup butter, melted
1 teaspoon vanilla extract
2 eggs
1/3 cup cocoa powder
1/2 cup all-purpose flour
1/4 teaspoon baking powder
1/8 teaspoon salt
Preheat oven to 350 degrees F (175 degrees C). Grease a 9×13-inch baking dish.
Beat softened butter, light brown sugar, 1/4 cup white sugar, and 1/2 teaspoon vanilla extract together in a large bowl until creamy. Add 1 egg; beat until light and creamy, about 2 minutes.
Whisk 1 1/4 cups flour, 1/2 teaspoon salt, and baking soda together in a bowl. Gradually stir flour mixture into butter mixture until dough is combined. Stir chocolate chips into dough. Spread dough into the bottom of the prepared baking dish to cover completely.
Stir 1 cup white sugar, melted butter, and 1 teaspoon vanilla extract together in a bowl; add 2 eggs and beat well. Mix cocoa powder into butter mixture until well-combined. Stir 1/2 cup flour, baking powder, and 1/8 teaspoon salt into cocoa mixture until batter is combined. Pour brownie batter over cookie dough and spread to cover completely.
Bake in the preheated oven until a toothpick inserted into the center of the brookies comes out clean, 20 to 25 minutes. Cool completely before cutting into bars.