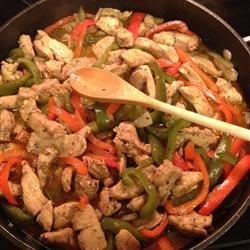 Are you tired of truck stop food? Start making great home-cooked meals ahead of time that you can freeze and take along with you in the truck. Bringing along home cooked meals let's you eat a healthier diet and saves you money.
INGREDIENTS
1 tablespoon vegetable oil
1 green bell pepper, seeded and cubed
1 red bell pepper, seeded and cubed
1/4 cup sliced sweet onions
3/4 pound skinless, boneless chicken breast, cut into strips
2 1/2 teaspoons Caribbean jerk seasoning
1/2 cup plum sauce
1 tablespoon soy sauce
1/4 cup chopped roasted peanuts
DIRECTIONS
Heat the oil in a large skillet over medium-high heat.
Cook and stir the bell pepper and onion in the oil until slightly tender, 5 to 7 minutes.
Remove pepper and onion from the skillet and set aside.
Add the chicken to the skillet; season with jerk seasoning; cook and stir chicken until no longer pink inside.
Pour the plum sauce in with the chicken; add the bell peppers and onions; toss to combine. Cook until the peppers and onions are heated completely, 3 to 5 minutes.
Sprinkle with soy sauce and chopped peanuts to serve.