With the weather starting to heat up, it's time to start thinking about cold meals. This easy to make salad recipe packs a lot of flavour and works perfectly as a meal all on its own or as a side dish to some grilled chicken or steak.
INGREDIENTS:
Creamy Herbed Dressing
½ cup low-fat mayonnaise
⅓ cup nonfat plain yogurt
¼ cup reduced-fat sour cream
3 tablespoons rice vinegar or white-wine vinegar
1 tablespoon Dijon mustard
1 tablespoon honey, or more to taste1
½ teaspoons dried minced onion or dried chopped chives
1¼ teaspoons dried tarragon or dill
½ teaspoon onion salt or celery salt or ¼ teaspoon of each
White pepper to taste
Salad
3 cups cooked whole-wheat fusilli or similar pasta
4 cups chopped broccoli florets (about 1½ large heads)
1½ cups diced ham (8 ounces)
1 large red or yellow bell pepper (or a combination), diced
¼ cup diced red onion
⅓ cup raisins
Freshly ground pepper to taste
4 cups spinach leaves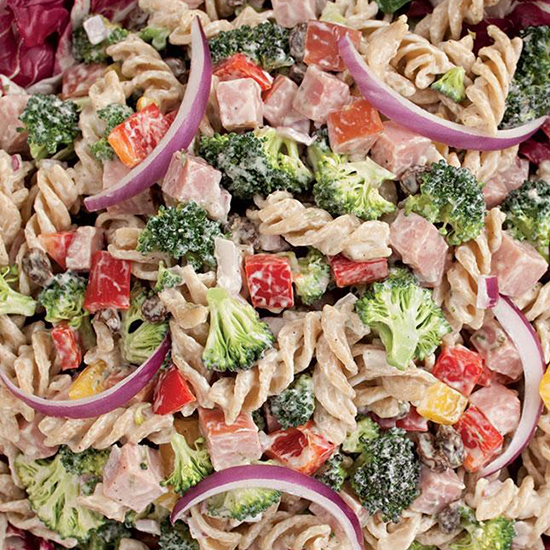 DIRECTIONS:
To prepare the dressing:
Combine mayonnaise, yogurt, sour cream, vinegar, mustard, honey, onion (or chives), tarragon (or dill) and onion salt (and/or celery salt) in a bowl until well blended.
Season with white pepper. Taste and adjust seasonings, if desired.
To prepare salad:
Combine pasta, broccoli, ham, bell pepper, diced onion and raisins in a large bowl.
Add dressing and toss until evenly incorporated.
Cover and refrigerate to blend the flavors for at least 30 minutes and up to 2 days.
Serve on a bed of spinach or romaine.