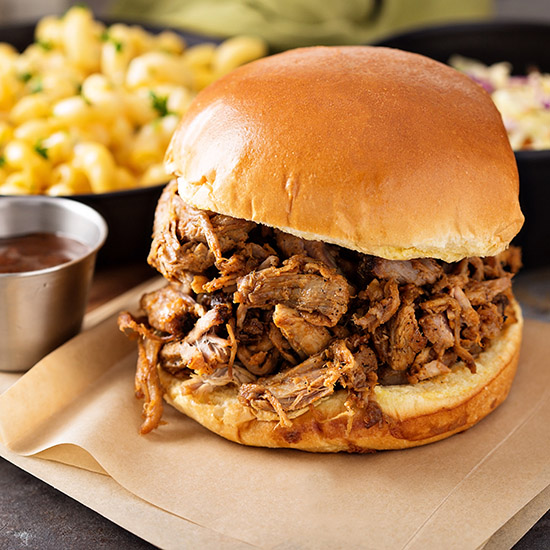 Eating on the road need not be fast food and truck stops! That's no way to eat, especially when you can prep a delicious slow-cooked meal early in the day and have it ready for lunch or supper.
This becomes even easier if you preplan before you leave on your run and prep some of the ingredients. In this recipe, you'll want to trim, spice and brown the meat at home and then do the slow cooking in the truck.
Ingredients
1 – 2 1/2 – 3 – pound boneless pork blade Boston roast (or Boston butt roast)
2 teaspoons Spanish bittersweet smoked paprika, smoked paprika or hot paprika
3/4-1 teaspoon freshly ground black pepper
1/2 teaspoon salt
2 tablespoons vegetable oil
2 medium onions, cut into thin wedges
1 14 1/2 – ounce can diced tomatoes with chili spices, undrained
1 3/4 cups apple juice
6 cloves garlic, minced
1/2 cup ketchup
1/2 cup cider vinegar
1/4 cup Worcestershire sauce
2 -3 teaspoons Spanish bittersweet smoked paprika, smoked paprika or hot paprika
1/2 teaspoon ground black pepper
12 -14 soft white hamburger buns, toasted
Directions
1. Trim fat from the meat. If necessary, cut meat to fit into your slow cooker. Sprinkle meat with the 2 teaspoons smoked paprika, 3/4 to 1 teaspoon black pepper and the salt; rub in with your fingers. In a large skillet, brown meat on all sides in hot oil over medium heat. Drain off fat. Transfer meat to cooker. Add onions, undrained tomatoes, apple juice, and garlic to slow cooker.
2. Cover and cook on low-heat setting for 10 to 11 hours or on high-heat setting for 5 to 5 1/2 hours.
3. Have your favorite BBQ sauce on hand.
4. Transfer meat to a cutting board or a good sized container, reserving cooking liquid in slow cooker. Shred meat with two forks.
5. Pour cooking liquid into a 4-cup measure; skim off fat. Return meat to slow cooker; stir in barbecue sauce and enough cooking liquid to reach desired consistency. Cover and cook on high-heat setting about 15 minutes or until heated through. Enjoy immediately on a bun or toasted bun. (Or keep warm, covered, on low-heat setting for up to 2 hours. Stir occasionally.)