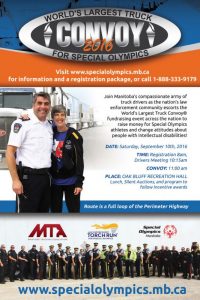 Since its inception in 2001, the World's Largest Truck Convoy® has become a one-day celebration of the trucking industry to help raise money for Special Olympics. To date convoys around North America have raised over $4 million dollars.
Last year, the Manitoba convoy raised over $70,000 with nearly 200 trucks in the convoy traveling counterclockwise around the Perimeter Highway (Hwy#101).
The Manitoba Special Olympics is hoping that this year will be even bigger and better and hopes to reach $80,000 in fundraising.
Join Len Dubois Trucking and hundreds of others on September 10th to see what a great event this is. The sight of 200 trucks rolling down the highway together is truly remarkable and brings a lot of attention to the programs being offered by Manitoba Special Olympics.
If you can't make it out, but would still like to help, you can make an online donation to this great cause.